CJC Science of Story Building Report Explores What Makes Stories Work
The University of Florida College of Journalism and Communications, in partnership with the John S. and James L. Knight Foundation, has compiled research and best practices from multiple disciplines to help communicators craft more effective communication.

"Science of Story Building," published on Medium, features an exploration of what science and research reveal about why stories work.  The report synthesizes scholarship from multiple disciplines to help inform journalism and public interest communications leaders and practitioners how to break through the noise and work toward the greater public good.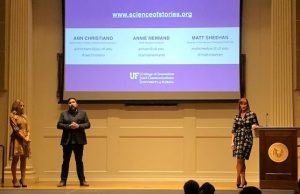 Matt Sheehan, director of Stories and Emerging Platforms, Ann Christiano, Frank Karel Chair in Public Interest Communications and director of the Center for Public Interest Communications (CPIC), and Annie Neimand, CPIC research director, wrote and edited the digital report.
Featured articles include:
Research findings are curated at scienceofstories.org or #storyscience on Twitter.
Posted: May 14, 2018
Category: Center for Public Interest Communications, College News
Tagged as: Ann Searight Christiano, Annie Neimand, Knight Foundation, Matt Sheehan, Medium, Science of Story Building