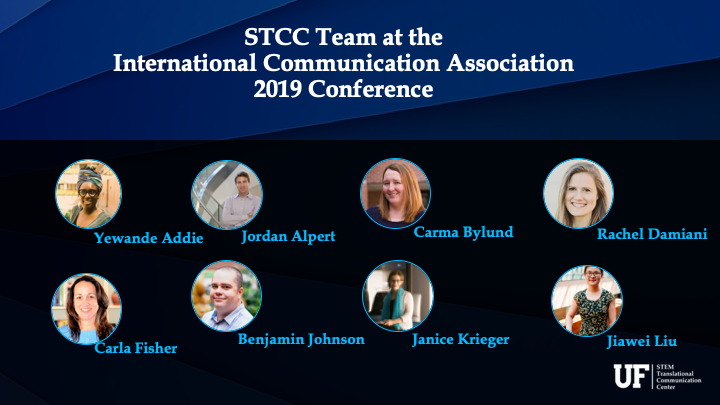 Dr. Carla Fisher (University of Florida) and Dr Marleah Dean (University of South Florida) received a Top 4 Paper Award from the Health Communication Division at the International Communication Association Conference.  This paper is now "in press" at the Journal of Applied Communication Research.
Below are some highlights from the conference:
Assessing the impact of Instagram influencers on destination image and travel intentions: How cultural distance plays a role
 Jordan Alpert, Assistant Professor, Advertising
Identifying the communication strategies of e-cigarette brands on Twitter using computer-aided text mining and content analysis / Trends in Advertising and Media Coverage of E-Cigarettes
Authors: Jordan M. Alpert, Huan Chen, Alyssa M. Jaisle, Yunpeng Zhao, Jiang Bian
Abstract:  Using computer-aided text mining, we identified and categorized the most frequently utilized communication strategies among the top selling e-cig brands on Twitter.
Carma Bylund, Associate Professor, Public Relations
The Longitudinal Impact of a Communication Skills Workshop on Doctors' Behavior 
Authors: Kelsy-Ann Adams (UF), Tripiti Sinha, Abdelhamid Afana, Mohamed Yassin, Ahmed El Geziry, Awais Nauman, Sheyma Al Romaihi, Ambika Anand,
Abstract: Communication skills education is still relatively new in some non-Western countries. Further, most evaluation research on communication skills education examines only short-term impact. In our communication skills program in a Middle Eastern country, we took an innovative approach, assessing how the course impacted participants' knowledge, attitudes and behavior over time. Our aims were as follows. Aim 1: To assess the impact of the communication skills course on participant outcomes. Aim 2: To assess the length of time since course completion associated with participant outcomes. Aim 3: To assess participant gender or clinical position associated with participant outcomes.
Rachel Damiani, Graduate Student, Research Assistant, STEM Translational Communication Center
The Longitudinal Impact of a Communication Skills Workshop on Doctors' Behavior 
Carla Fisher, Associate Professor, Advertising
Uncertainty and previvors' cancer risk management: Understanding the decision-making process.
Authors: Marleah Dea,  Carla L. Fisher
Award: Top Paper, Health Communication Division
 Abstract: Women at risk for breast cancer face complex risk-related uncertainty for themselves and their family members. This risk-related uncertainty is more intense and experienced chronically for women with hereditary breast or ovarian cancer (HBOC), particularly women who test positive for a BRCA genetic mutation or "previvors." Women's risk management medical decisions can be a way to manage their uncertainty but little is known about how uncertainty informs their decision or how uncertainty is impacted by these medical decisions. We used an uncertainty management theoretical lens to interview 46 previvors about their decision-making process. A thematic analysis revealed two uncertainty management (i.e., risk-reducing) decision-making pathways (preventive surgery and increased surveillance) with each pathway encompassing a three-part process of 1) uncertainty appraisal, 2) medical decision (i.e., uncertainty management strategy), and 3) outcomes. Themes associated with each pathway help illustrate women's variant experiences of uncertainty and, as such, how uncertainty can influence women in distinctive ways and contribute to different medical decisions. Moreover, the findings highlight how women's chronic uncertainty living with a BRCA mutation can be quite different based on their medical decision. Findings advance theoretical thinking about uncertainty and risk management as an ongoing, distressful chronic experience and also highlight the importance of life-span phenomena in women's decision-making process.  Based on these findings, we constructed a theoretically informed decision-making model that can be used as a translational tool to aid genetic counselors and previvors facing these risk-reducing medical decisions.
Partnering with Mommy Bloggers to Disseminate Breast Cancer Risk Information: A Social Media Intervention
Authors: Wright, K., Fisher, C. L., Rising, C., Afanaseva, D., Burke-Garcia, A., Cai, X.
Abstract Although women seek information online about how to reduce breast cancer risk, they may not be obtaining scientifically-based information. Social media platforms, like blogs, offer a way to disseminate health information, educate the public, and promote healthy behavior. Blogs written by mothers are increasingly recognized as a channel that women utilize to make personal and family health-related decisions. We developed and evaluated a blog intervention to disseminate breast cancer and environmental risk information to mothers. We teamed with "mommy bloggers" to disseminate a message that we developed and tailored for mothers and daughters based on scientific evidence from the Breast Cancer and the Environment Research Program (BCERP). Results indicated that blog readers who were exposed to (and specifically recalled) the BCERP-adapted intervention messages from mommy bloggers had higher breast cancer risk/prevention information exposure scores and higher breast cancer risk/prevention information satisfaction and influence scores than those who did not see (or recall) them. Mommy bloggers may be important opinion leaders for some women and key to enhancing the messaging, delivery, and impact of environmental breast cancer risk/prevention information on mothers
Explaining acupuncture in family medicine: Patients' and physicians' use of metaphor.
Authors: Fisher, C. L., Ledford, C., Crawford, P.
Abstract: Metaphorical language has long been used by patients and providers to explain health experiences. Still, some studies indicate that metaphors can be counterproductive and inhibit patients' willingness to try new treatments, especially those that are unfamiliar, complex, or stigmatized. This is particularly complex in integrative settings where conventional medicine providers (family medicine physicians) offer patients complementary and alternative therapies, like acupuncture. To fully determine the potential translational value of metaphor, scholars argue that we must "prepare, test, and practice" metaphors that represent both patients' and providers' preferences.  This study provides both physician- and patient-generated metaphorical explanations of acupuncture treatment, thereby illustrating how conventional medicine physicians Powered by Editorial Manager® and ProduXion Manager® from Aries Systems Corporation and patients make sense of a traditionally Eastern medical practice by using concepts familiar to them. The results could be used to develop interventions or translational tools.
Benjamin Johnson, Assistant Professor, Advertising
Panel: Boundary Expansion and Narrative Persuasion: The Situational Self and Effects of Video Storytelling
Panel: Confirmation Bias in the 2017 Japanese Snap Election: Comparisons with American and German Findings
Janice Krieger, Director, STEM Translational Communication Center
Panel: Examining Researchers' Attitudes towards an Interdisciplinary Academic Center: A Social Identity Approach
Co-Panelists from UF : Rachel Damiani, Vaughan James, STCC research assistant;  Samantha Paige, , STCC post-doctoral associate; Elizabeth Flood-Grady,  STCC post-doctoral associate; Edward Neu, UF CTSI; , Claire Baralt, UF CTSI
Panel: Seeking and Securing External Funding For Health Communication Research
Jiawei Liu, Post-doctoral Associate,STEM Translational Communication Center
Examining Communication Techniques to Promote Clinical Trail among Health Research Registry Participants
Authors: Ab Liu, J., Flood-Grady, E., Paige, S., Lee, D. Nelson, D. R., Elizabeth, S., Freed, D., Krieger, J. L.
Abstract: Health research registries have great potential to increase awareness of research opportunities among diverse patient populations and reduce disparities in clinical trial accrual. However, little research has focused on patients' intentions to participate in clinical trials once they are enrolled in the registry and their intentions to remain in the registry over time.  In this study, patients (N = 467) enrolled in a university-based health research registry (i.e., Consent2Share) in the southeastern region of the US participated in an online survey. Based on our results, health research registry knowledge, perceived values (i.e., social values, benefits, barriers), self-efficacy, trust, having chronic health concerns, and consent recall were positively correlated with health research registry retention and clinical trial participation. Health research registry consent recall had significant positive associations on knowledge, values, trust, likelihood of participating in future studies, and intentions to remain enrolled in the research registry. Thus,  the process of consenting patients to the research registry is important for retention in health research registry as well as actual clinical trial recruitment. The current study identifies key points of emphasis to expand participation in research registries as a strategy to increase clinical trial enrollment, such as the deployment of precision message and interventions.