Colorectal Cancer Intervention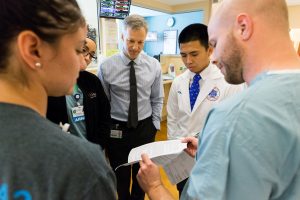 The STEM Translational Communication Center (STCC) specializes in the development, dissemination and rigorous evaluation of colorectal cancer (CRC) translational communication interventions. CRC is the second leading cause of cancer death in both men and women in the United States, and our research aligns with national efforts to combat CRC-related mortality by improving screening rates among underserved patient populations.
Our interventions involve culturally sensitive, patient-tailored educational messages that utilize innovative dissemination and implementation strategies. To date, these interventions have employed diverse message channels, as well the novel use of virtual technology to overcome barriers to effective decision-making and lasting behavior change. The overarching aims of this research are to improve patient outcomes and inform implementation science and practice about CRC prevention.
Patient-Tailored Colorectal Cancer Decision Aids
Developing highly customized and culturally sensitive decision-making aids to deliver patient-specific risk information and efficacy building strategies.
At-Risk Patient Cohort Identification
Using the University of Florida's Integrated Data Repository to target patients who are outside of recommended colorectal cancer screening guidelines with translational communication interventions.
Disseminating Colorectal Cancer Interventions via Digital Technology
Employing eHealth and mHealth technologies to disseminate tailored colorectal cancer interventions and facilitate clinic appointment making.
Improving Access to Colorectal Cancer Prevention Resources
Improving patient access to, and uptake of, home stool tests to overcome the barriers associated with traditional colorectal cancer screening techniques.