ABOUT THE PROJECT
ALEX (Agent Leveraging Empathy for eXams) is a new online virtual health assistant developed by faculty at the University of Florida. Starting in November 2018, we're starting a research study sponsored by the National Institutes of Health (NIH) using ALEX. Select participants at UF Health will receive an invitation to participate in a research study using ALEX.
The purpose of the research study is to see whether talking to ALEX about illness prevention makes it easier to stay healthy. Patients who are selected to participate in the study can interact with ALEX safely and confidentially through MyUFHealth.
Want to know more about ALEX? Contact Research Coordinator Miriam Buhr at ivelisse@ufl.edu.
Miriam Buhr, MS, Research Coordinator, University of Florida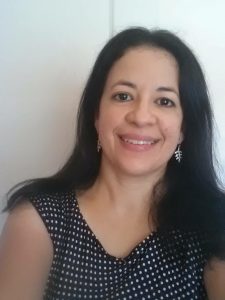 Miriam Buhr has worked as a research coordinator and programs manager.
She served as project liaison for a quality improvement team and outside agencies to facilitate completion of program evaluations, project milestones and deliverables.
She currently is a research coordinator in the STEM Translational Communication Center in the College of Journalism and Communications at the University of Florida. Miriam is certified as a physician-patient medical interpreter in Spanish. She is from Puerto Rico and speaks Spanish and French. Miriam has also traveled overseas and lived in Cuba and Iceland.
---
CONOZCA A ALEX  
ALEX (Agente utiLiza Empatía para eXamenes) es un innovador asistente de salud virtual creado por el profesorado en la Universidad de Florida.  En noviembre del 2018, vamos a empezar un estudio de investigación patrocinado por National Institutes of Health (NIH) usando a ALEX. Los participantes seleccionados por UF Health recibirán una invitación para participar en el estudio de investigación usando a ALEX.
El propósito de este estudio es determinar si al conversar con ALEX sobre la prevención de una enfermedad simplifica la idea de mantenerse saludable. Los pacientes seleccionados para participar en este estudio de investigación pueden interactuar con ALEX con seguridad y confidencialidad a través de MYUFHealth.
¿Desea saber mas sobre ALEX? Contacte a la Coordinadora de Investigación, Miriam Buhr a través del correo electrónico, ivelisse@ufl.edu.