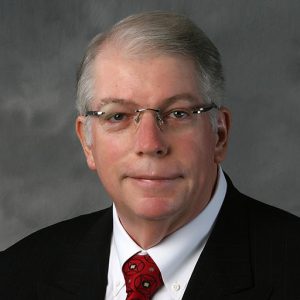 Pat Ford
Professional in Residence - Department of Public Relations
Affiliate Professional - Internal Communication Research Hub
Bio
Patrick Ford is a professional in residence at the University of Florida's College of Journalism and Communications. He teaches courses in Corporate Reputation, Crisis Communications and Corporate Communication Essentials.
Pat joined UF CJC from Burson-Marsteller, where he was most recently worldwide vice chair and chief client officer. During his 29 years at the firm, he also served as US CEO, Asia-Pacific chair, global Corporate Practice chair and US Corporate Practice chair.
Pat specializes in corporate reputation management, senior executive communications, media strategy, and issues and crisis management. His clients have included world-class companies in the automotive, energy, express delivery services, financial services, food and beverage, management consulting, pharmaceutical, technology, and telecommunications industries.
Before joining Burson-Marsteller, he served as vice president for external affairs at the American Enterprise Institute for Public Policy Research, one of America's leading policy think tanks, in Washington, DC, following a brief career as a journalist, including four years at The Jersey Journal in Jersey City, NJ.
He serves as immediate past chair of the Diversity Action Alliance, a coalition of the leading organizations in the public relations profession, whose mission is to accelerate action on recruitment, retention, and representation of diverse talent at all levels in the PR/communications profession. He also serves on the Board of Trustees of the Institute for Public Relations, an international organization that supports PR research and education. He is a member of the Board of Advisers of the Plank Center for Leadership in Public Relations, whose mission is to help develop and recognize outstanding diverse public relations leaders, role models and mentors to advance ethical public relations in an evolving, global society. He also serves on the Board of the Museum of Public Relations.
In 2016, the IPR Board chose Pat as the 19th recipient of the Alexander Hamilton Medal, its highest award, which "honors PR professionals who have made major contributions to the practice of public relations, including effective use of research." In 2014, he received the Plank Center's Milestones in Mentoring Legacy Award, which "recognizes those who have touched the lives of countless public relations professionals over the course of their exceptional careers."
In recognition of Pat's longstanding, passionate commitment to diversity, equity and inclusion in public relations, the PR Council and PRWeek presented him with their Diversity Distinction in PR Award as 2016 Diversity Champion of the year for the agency side of the profession.
News
Courses
Syllabi from the current and three previous semesters: