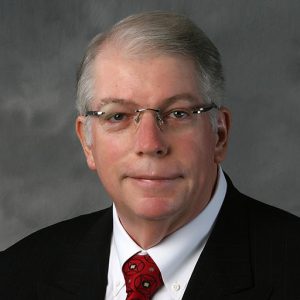 Pat Ford
Professional-in-Residence - Department of Public Relations
Bio
Ford, worldwide vice chair and chief client officer for Burson-Marsteller, will join the College as a professional-in-residence for the 2017-18 academic year.
Burson-Marsteller is one of the largest strategic communications and global public relations firms in the world with 77 offices and 85 affiliate offices operating in 110 countries across six continents. Ford will continue to serve as a senior adviser to Burson-Marsteller's top management during the academic year.
Ford, who has been with Burson-Marsteller for 28 years, spent six years as chief executive officer of its U.S. region and three years as chair of its Asia-Pacific region. He specializes in corporate reputation management, senior executive communication, media strategy, and issues and crisis management. His clients have included top-tier companies in industries as diverse as automotive, energy, express delivery services, financial services, food and beverage, management consulting, technology, and telecommunications, as well as government clients in the U.S. and Asia.
Ford started his career as a journalist for the Jersey Journal (Jersey City, N.J.) and served as vice president for external affairs at the American Enterprise Institute for Public Policy Research. He is an advisory board member for the Museum of Public Relations, The Plank Center for Leadership in Public Relations and the Scripps Howard School of Journalism and Communications at Hampton University.  He is a trustee with The LAGRANT Foundation and with the Institute for Public Relations (IPR), which is housed at UFCJC.
Ford has been a champion for diversity and inclusion at Burson-Marsteller and in the industry. He founded the firm's Diversity and Inclusion Council, which he chaired for five years, and instituted diversity training. In 2016, the PR Council named him Diversity Champion in the PR Agency category as part of their Diversity Distinction in PR Awards.
He also received the IPR's 2016 Alexander Hamilton Medal, awarded for lifetime contribution to the public relations profession, and, in 2014, the Milestones in Mentoring Legacy Award from the Plank Center for Leadership in Public Relations.
News
Courses
Syllabi from the current and three previous semesters: