Pat Ford Comments on the Lack of Willingness of Corporate Communicators to Speak About Current Societal Issues
Pat Ford, University of Florida College of Journalism and Communications Public Relations professional-in-residence, is quoted in "1st Corporate Character Barometer Shows Gap Between Corporate Readiness and Stakeholder Expectations" published in PR Daily on Oct. 19.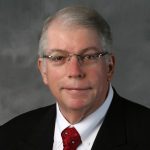 The article focuses on the results of a corporate communicators survey measuring the willingness and readiness of brands to take a stand on the societal issues of the day, as well as their experiences when they do speak out. Results showed that 55% of communicators said their brands are not likely or are somewhat unlikely to take a stand in the coming quarter.
According to Ford, "This does not surprise me. First, let's recognize these numbers reflect a significantly higher tendency toward corporate social activism in recent years. That said, while data from various surveys show stakeholders want to see more tangible efforts by corporations to effect change through their environmental, social and governance policies –- and in some cases they do want to see companies take stands on social issues –- they also have zero tolerance for performative gestures that are not backed by action. Given how polarized our society is right now, it is reasonable for even the most socially conscious companies to be careful about advocacy stands on certain issues."
Posted: October 21, 2022
Category: College News
Tagged as: Pat Ford