Pat Ford Shares His Memories of PR's Forefathers
Pat Ford, University of Florida College of Journalism and Communications (UFCJC) Public Relations professional-in-residence, was quoted in "PR Forefathers: Succession" published on prweek.com on Sept. 19.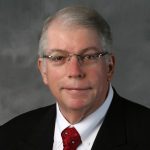 In the article, PRWeek interviews successors to PR's forefathers to discuss their memories of an iconic lunch in 2008 that featured four legends: Harold Burson, Al Golin, Dan Edleman and David Finn. They reflected on the contributions these pioneers made to an industry. Three of them were particularly shaped by their service in the armed forces during World War II.
"It gave them the basics of news and communication, plus military discipline, a sense of mission, purpose and honor," said Ford, who in 2008 was U.S. CEO of Burson-Marsteller.
According to Ford, he remembers seeing Edelman, Golin and Burson being honored at the inaugural Plank Center Milestones in Mentoring Awards in 2010. But while the quartet knew each other from competing as agencies and seeing each other at industry events, the PRWeek lunch was almost certainly the only formal sit-down between them.
"I stay in touch with a lot of people in the Burson community and alumni subgroups," said Ford. "They all speculate about where Harold would be on issues such as climate change, the anti-woke agenda, Bud Light, Disney and Target."
Ford also notes that Burson, Edelman, Golin or Finn weren't exactly woke activists. But if they were around today, he believes they'd view these issues as top-of-mind business priorities and rail against short-term thinking.
Posted: September 27, 2023
Category: College News
Tagged as: Al Golin, Burson Marsteller, Dan Edleman, David Finn, Harold Burson, Pat Ford, PRWeek, Public Relations