UFCJC Public Relations Professor Emeritus Mary Ann Ferguson to Retire in June 2023
Mary Ann Ferguson, University of Florida College of Journalism and Communications (UFCJC) Public Relations Professor Emeritus, will retire from the College on June 1 after a 42-year career.
Ferguson is best known as the researcher on the first experiment on public relations corporate social responsibility published in 1978, which led to a multitude of studies referencing that work. She is also renowned as the scholar who led the field into the development of theory in public relationships with her groundbreaking 1984 work "Building Theory in Public Relations: Interorganizational Relationships as a Public Relations Paradigm." As evidence of the long-term significance of the research, the research was the Journal of Public Relations' most-downloaded article in 2018, for which she won the Karen Russell Award from the University of Georgia's Grady College.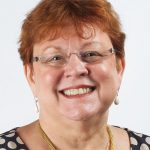 For nearly 16 years, Ferguson directed UFCJC's former Communication Research Center, which conducted dozens of contracted research studies including public opinion polls, survey research, eye-tracking research, readership and viewership studies, experiments, work with UF's McKnight Brain Institute on gambling and risk taking, and three years of work funded by the Florida tobacco settlement. She wrote the initial tobacco evaluation research plan at the invitation of the Florida governor, which was the foundation for evaluating anti-tobacco programs over several years. Her seminal work helped move tobacco products to behind the counters, prevent smoking in restaurants, and change advertising directed toward children.
Ferguson also served as the College's associate dean for research, affirmative action officer and as graduate coordinator in public relations. When she joined UF in 1981, empirical research was not a part of the College's recognized mission. With the help of Journalism Professor Emeritus Kurt Kent, she recruited many of the College's first empirical scholars and was part of the team that conceived of and began the Ph.D. program, as well as many of the other programs in the College supporting research, including research summers and research funding.
She was also a pioneer in developing shared governance at UF. She was part of a team under UF President Charles Young's administration that developed a model of shared governance. During UF President Bernie Machen's term, she was elected as the vice chair and then chair of the UF Faculty Senate and served on the Board of Trustees, as well as a member of the statewide Board of Faculty Senate Leadership. She was elected president of the UF Women's Faculty Association and served on the College of Medicine Women's Faculty Association. In addition, she served on and chaired the UF Constitution Committee and the UF Faculty Welfare Committee. She also served for several years on the UFCJC Senate and its various committees and chaired the Senate multiple times.
Ferguson has authored or coauthored 55 publications, 15 of which were about corporate social responsibility and its important role in society, 14 about risk taking, particularly health, gambling, tobacco, and the environment, and the rest related to various aspects of public relations.  She has served on 252 graduate committees and educated thousands of students. To read more about Ferguson and her impact, visit: https://www.jou.ufl.edu/2019/09/05/after-38-years-mary-ann-ferguson-continues-to-have-a-major-impact-on-public-relations/.
Posted: May 25, 2023
Category: College News
Tagged as: Mary Ann Ferguson