After 38 Years, Mary Ann Ferguson Continues to Have a Major Impact on Public Relations
By Lenore Devore, B.S. Journalism 1984
When a professor and mentor encouraged Mary Ann Ferguson to start thinking about research while she was getting her master's degree in journalism at the University of Wisconsin-Madison, she decided to tackle the future of public relations. She presented a paper which was well-received by all but one person, a senior scholar who scuttled her chance of having it published.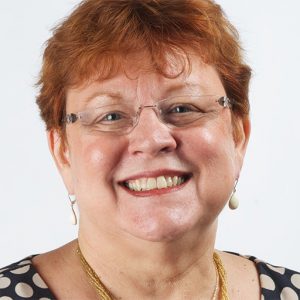 That was in 1984. Now, after a successful career that includes 38 years at the University of Florida College of Journalism and Communications where she is a professor in the Public Relations Department, Ferguson finally had her paper published.  "Even after I moved away from that area [of research], I continued to receive requests for a copy of the paper," Ferguson said. "I mailed it out. A year and a half ago, the editor of the Journal of Public Relations Research said everyone wants this paper, they want to see it in its original form. Let's publish it."
The piece was the journal's most-downloaded article in 2018, for which Ferguson won the Karen Russell Award from the University of Georgia's Grady College. The paper — "Building Theory in Public Relations: Interorganizational Relationships as a Public Relations Paradigm" — was groundbreaking in its day, when Ferguson suggested public relations practitioners think about relationships with companies, individuals and the public instead of looking inward at themselves. "Major studies followed on that," she said.
Public Relations Department Chair Marcia DiStaso calls Ferguson "one of the leading scholars in PR." The article for which Ferguson won the award "continues to get such traction. It shows the importance of her work on such a critical topic."
Her prominence certainly reflects well on the College.
"I have a well-established educator and scholar who can help continue to improve the program, mentors grad students and junior faculty," DiStaso said. "She's known all over in professional, academic and student groups, and that helps elevate our program."
Ferguson has worked at UF since 1981. She started at UF while working on her Ph.D. dissertation, earning her Ph.D. in Mass Communication with an emphasis on research evaluation from the University of Wisconsin-Madison. During her time at UF, she also has been Associate Dean for Research; chair of the UF Faculty Senate; and a member of the UF Board of Trustees. She originally planned to return to industry (she previously worked at IBM). "But I loved research. I found it was a great way to learn new things and to change people's knowledge," she said.
Scott Farrell, president of Golin, an international public relations firm, first met Ferguson in college, where they shared the same mentor. They lost touch until a few years ago, when Farrell visited CJC and attended one of Ferguson's classes.
| "If there were a Mount Rushmore for researchers in PR, I think she'd be up there." |
"Research is core to what all of us do," Farrell said. "It gives us a lens to view the world, a pure view to the way the world works. She's one of the very best to do that, to apply that crystal clear research lens on the challenges and problems that we as professional communicators deal with and try to solve every day."
Ferguson teaches public relations research methods, ethics and social responsibility, and corporate social responsibility. Each is important to her for different reasons, like research methods for grad students. "It's an opportunity to give them the same kind of love I have for being a researcher, to imbue knowledge."
Public Relations Professor Linda Hon said Ferguson was ahead of her time when she wrote about relationships in PR. "Very few communications scholars can say they created a paradigm shift in their field. Mary Ann did," Hon said. "Science is so quirky, so sometimes someone who challenges the status quo is rejected. It's absolutely amazing that after 10-15 years that this is now scholarship and the practice that we're embracing."
Ferguson continues to build on her research by tackling new topics, becoming an expert on corporate social responsibility. "She never rests on her laurels," Hon said. "She's taking a new twist with her latest research — looking at corporate irresponsibility."
Ferguson focused on corporate social responsibility (CSR) because she cares about the changing public relations environment. She was very pleased when 200 companies recently signed a pledge that profits are not their first priority anymore. For her work in CSR, she was named a Page Legacy Scholar five times by the Arthur W. Page Center at Penn State University College of Communications.
Ferguson is particularly proud of her research around the 1998 Truth campaign. Her work stemmed from Florida's settlement with tobacco companies that netted the state $11.3 billion. Called on by the state to do research that would guide the campaign's focus, Ferguson had 48 hours to develop five projects, which grad students helped her carry out. She provided data that had a "tremendous impact on the Legislature," she said. One project showed how convenience stores put "large barrels of tobacco packages next to the door. Why? Because they're easy for people to steal. Tobacco companies pay (the stores) for shrinkage (loss)," she said. "Young people often start smoking by stealing cigarettes. The Legislature changed the law and required them to place cigarettes behind the counter."
Without the research, the campaign might not have been successful. "I think the photos we had and the observations we had made a great deal of difference," Ferguson said. "If we went in with just percents, I don't think we would have been nearly as successful."
The impact of Ferguson's research on the public relations industry is immeasurable. But her value to the industry was summed up nicely by Golin's Scott Farrell:  "If there were a Mount Rushmore for researchers in PR, I think she'd be up there."
Posted: September 5, 2019
Category: Profiles
Tagged as: Mary Ann Ferguson, Public Relations