UFCJC Faculty, Doctoral Student and Alumna Receive 2023 Page/Johnson Legacy Scholar Research Grants
Linjuan Rita Men, University of Florida College of Journalism and Communications (UFCJC) Public Relations professor and director of Internal Communication Research, Won-Ki Moon, Advertising assistant professor, and Haoran "Chris" Chu, Public Relations assistant professor, and doctoral student Jie Jin, are the recipients of four of the 19 2023 Page/Johnson Legacy Scholar Grants. The 2023 grants focus on digital analytics and prosocial communication research.
Men is the recipient of two grants, one in each research category. She will collaborate with Yuan Wang from the University of Hong Kong to study "Fostering Digital Internal Listening: The Impact of EOR's and Employees' Supportive Behaviors."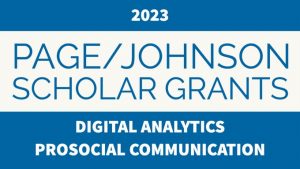 Men and Jin will be part of a five-person research team including Yi Grace Ji from Boston University, Yufan Sunny Qin, UFCJC M.A.M.C. 2018 and Ph.D. 2022, from James Madison University,  and Zifei Fay Chen from the University of San Francisco. They received a grant for "How Should U.S. Companies Communicate About Geopolitical Issues? Toward a Normative Model of Corporate Prosocial Communication."
Moon is a co-recipient of a digital analytics grant with Sangwook Lee from Penn State University. They will examine "Organizational Communication and Education for Ethical Use of Artificial Intelligence Applied Digital Analytics."
Chu and Shupei Yuan from Northern Illinois University received a prosocial communication grant for "Licensed to Greenwash? Exploring Sustainability-Driven Prosocial Communication Strategies Through the Moral Framework of Corporate Sustainability Communication."
The scholar grant program is a primary function of the Page Center. Each year with the help of senior research fellows, Center leaders identify important, timely topics and solicit research proposals that contribute to the scholarly, industry, and public understanding of those topics.
Since its founding in 2004, the Center has funded nearly 300 scholars and awarded more than $1 million in funding. While research themes vary from year to year, the Center consistently supports academic exploration into the understanding of principles practiced in public communication.
Posted: April 20, 2023
Category: Alumni News, College News, ICRH News, Student News
Tagged as: 2023 Page/Johnson Legacy Scholar Research Grants, Haoran "Chris" Chu, Jie Jin, Linjuan Rita Men, Won-Ki Moon, Yufan Sunny Qin