NBA in Paris: "I wish it didn't have to end"
By Jamie Goldman, Journalism Junior
As I walk toward the restaurant in the hostel, I hear one of my favorite songs playing, "I Will Survive" by Gloria Gaynor. It's karaoke night, but something is different about the song. It's in another language. That's when it really hit me that I was in a different country. It was supposed to be in another language, I was in Paris.
The study abroad program to Paris with UF CJC was incredible. When it was over, I told my mom it was literally the best week of my life. Covering my favorite sport in a foreign country with a group of students that became some of my closest friends was amazing.
I had never left North America before, so the fact that we traveled to France made the program worthwhile by itself. Also, the excursions that we attended in Paris were perfect. I couldn't have scripted them better.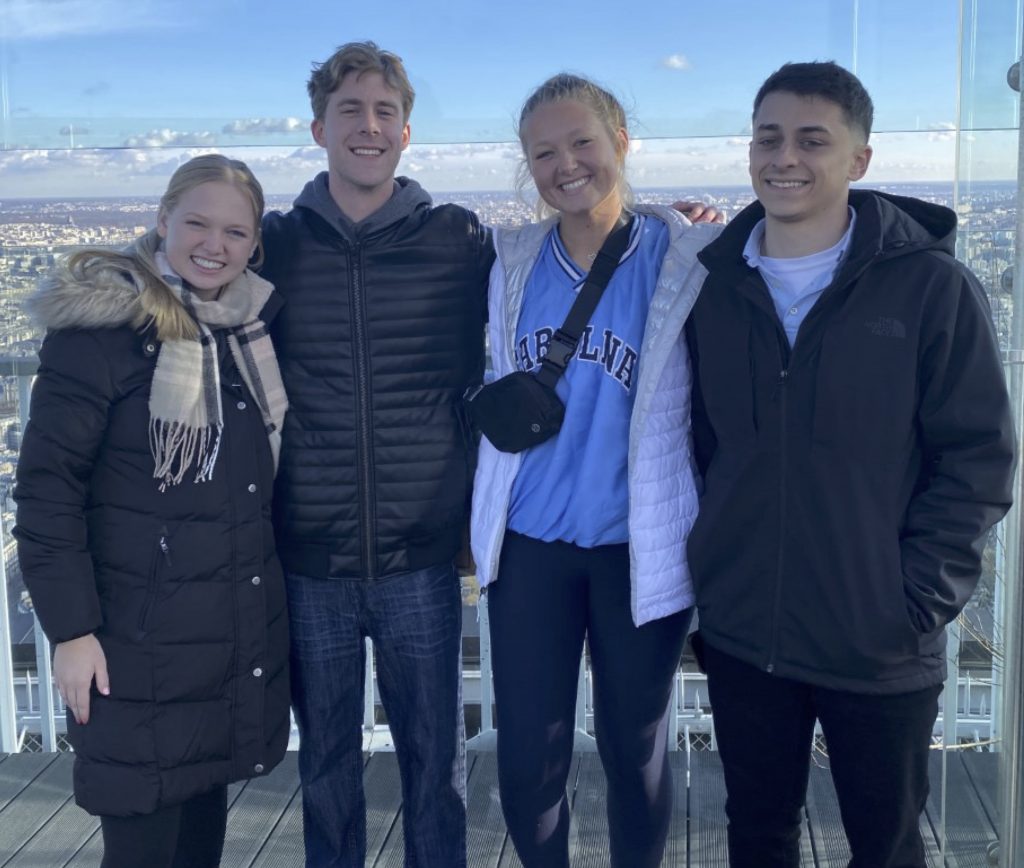 Montparnasse Tower
I must say, I was a bit skeptical when Dr. C told us we were going to the top of "the ugliest tower in Paris" but I was wrong.
The views from the top of the Tour Montparnasse were absolutely breathtaking. It felt as if we were on top of the city. It set the tone for our Parisian experience by giving us a great view of the entire city and made for some magnificent photo opportunities as well.
Stade de France Tour
The tour of Stade de France was awesome to be a part of. We got to see such a cultural landmark, a major venue for international soccer. The look into the visitors' locker room and walking onto the field as if we were players were experiences I'll never forget.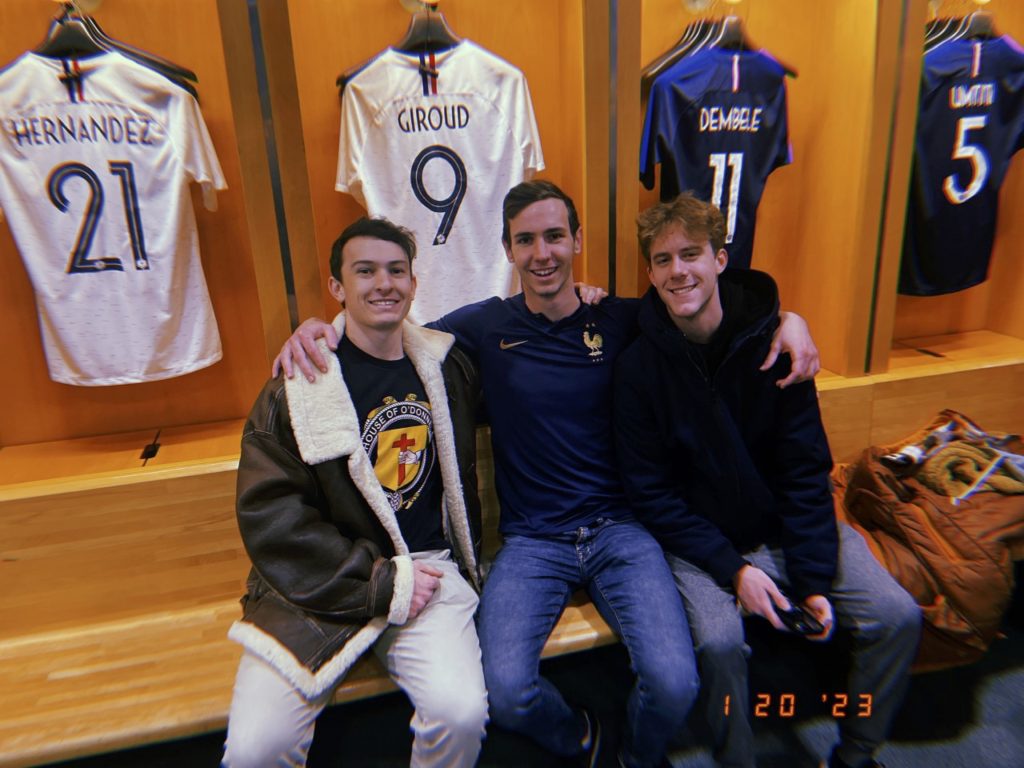 What made this visit particularly special for me was being able to "represent the United States of America" in the ever-intense best of three Rock-Paper-Scissors battle against Argentina (represented by my classmate Dylan Meyer). I won 2-1 and led my team (group of classmates) out onto the field.
It felt like I was in a fever dream, getting ready to go play the World Cup final. I don't even follow soccer that much… but touring Stade de France was definitely one of my favorite moments of the study abroad program.
Chicago Bulls vs. Detroit Pistons at Accor Arena
How can I not mention the game? The main reason we went to Paris in the first place was this NBA game between Chicago and Detroit.
The game had an amazing atmosphere. The French fans definitely brought the noise and made it a great experience. During a break in the game, they played the song "Freed from Desire" by Gala, and the fans went wild during the "Na na na na na na na na" part of the song. A moment I'll never forget. It was more than just a game to them.
For me personally, being able to see Goran Dragic and Derrick Jones Jr. playing together was an added bonus. I'm a big fan of both, dating back to their time with the Miami Heat. During the game, Jones hammered down an alley-oop set up by Dragic. The crowd went crazy, but it was extra special for me.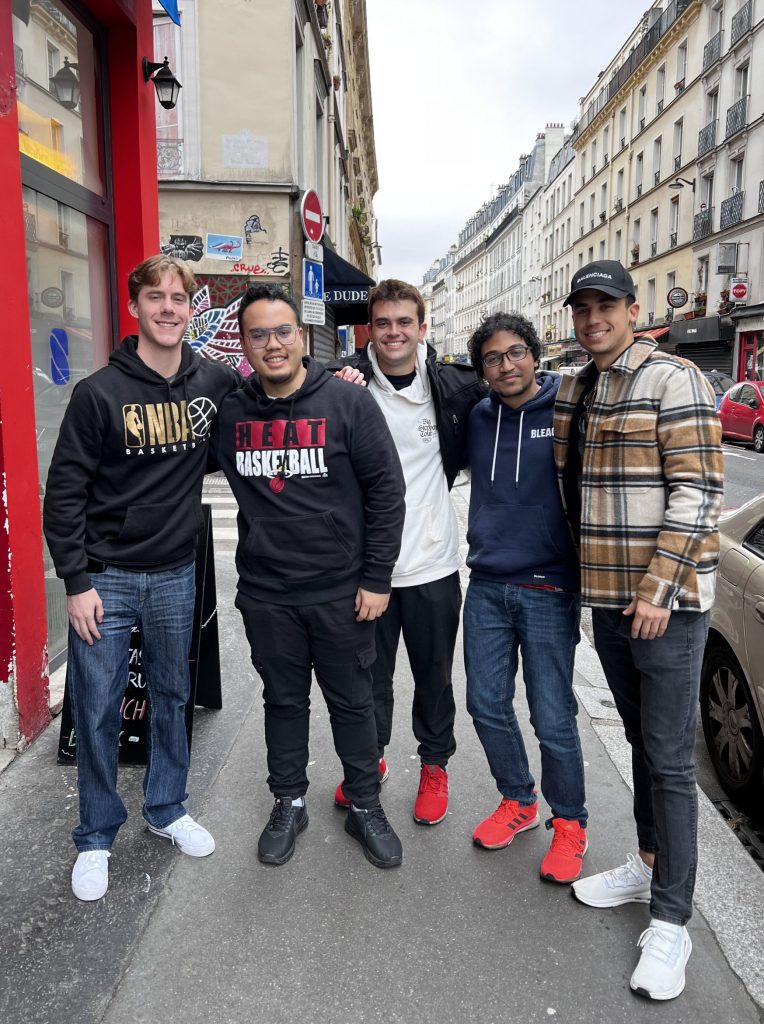 Working on our assignments on game day was a unique learning experience. I had never done anything like that before.
For my assignment, my partner Dylan Meyer and I wrote about French NBA team Twitter account owners. Seeing how they cover/follow the NBA from France was really interesting.
It was my first time interviewing sources for a project that I really cared about, so it felt easier to meet and talk with these people. The exercise didn't feel like work. It was fun.
I wish I had recorded some video from our interview with Elias, owner of @CelticsFR, and that I had been more persistent in trying to get another interview. But I still learned a lot from the experience.
My journalistic skills improved because of the reps we got, even if they weren't perfect.
Eiffel Tower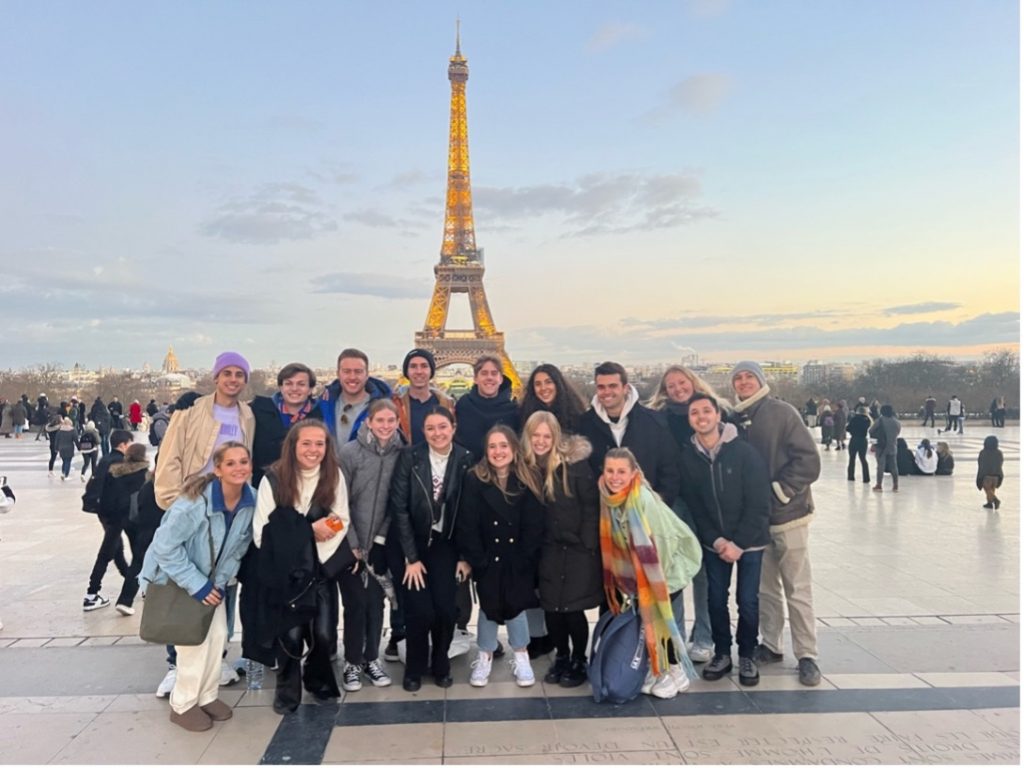 Another major highlight of my time in Paris was going to see the Eiffel Tower. Though it wasn't an official excursion of the program, many students took free time to visit the famous monument. I had seen it before in TV and movies but nothing beats the real thing.
When I felt satisfied with the pictures I took, I decided to go and explore a bit while my classmates continued taking photos. I walked up a bit closer to the Tower sparkling beautifully in the night's sky and sat down on some steps. A man with a guitar and a microphone was playing an acoustic version of the song "Cringe" by Matt Maeson.
It was beautiful. I wasn't on my phone or with anyone. It was just me, enjoying the moment. What a powerful moment to truly be present and enjoy my surroundings. Now, every time I hear that song I think of that moment and smile.
Boat Cruise on Seine River
One of the best moments of the program was the cruise on the Seine River. I really liked that this was on the last night because, by then, we had all become pretty comfortable with each other.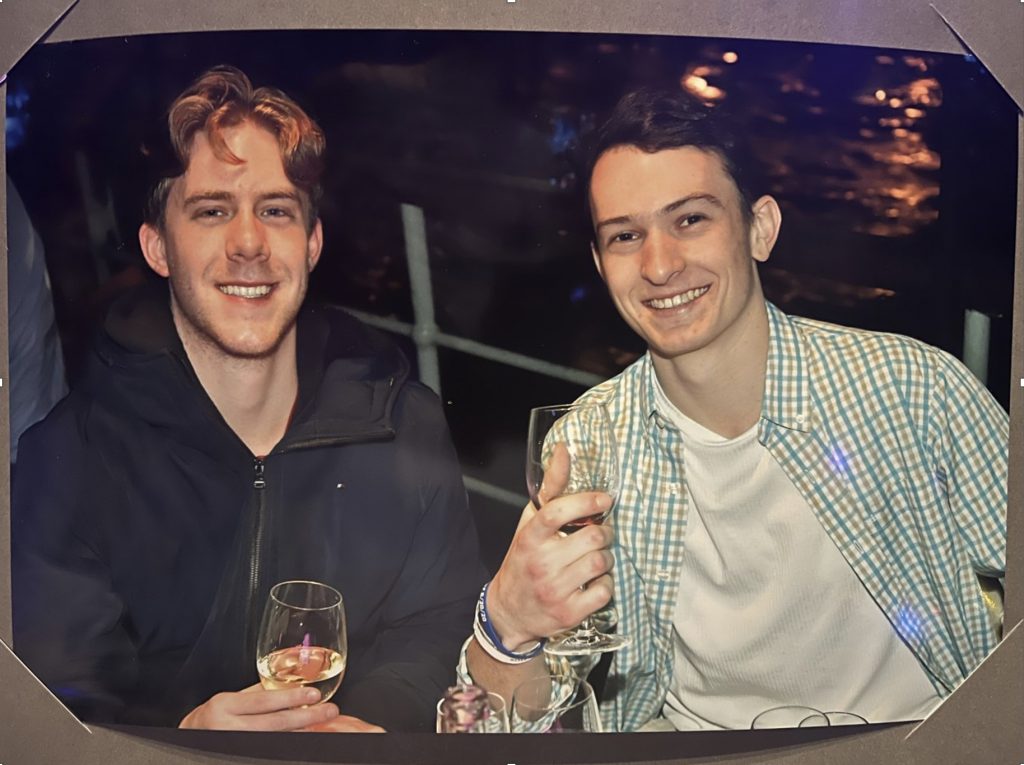 We ate, laughed, sung, danced and just had the time of our lives together that night. Everyone was smiling and having a good time.
The live music was spectacular. The live band and the lead singer put on a phenomenal performance. They were so good that at first Pat O'Donnell and I thought it was a DJ. That was until we saw the beautiful lead singer gently strolling towards us with her microphone. The live music definitely added to an already marvelous ambiance.
The views from the boat were breathtaking. The tour started at the Eiffel Tower and took us through the Seine to many major landmarks of Paris. Everywhere you looked, you'd see some sort of historical landmark. Coming from America it was especially cool to see the French Statue of Liberty. (But I still think the one in New York City is better.)
The best part of the cruise was the very end when we were pulling back into the Eiffel Tower. The live music played the song "Viva la Vida" by Coldplay and our whole class was singing and dancing together in unison. Everyone looked so genuinely happy at that moment. Nobody was fighting. Nobody was stressed about anything. It was pure joy. We didn't want to get off the boat, we were having such a great time.
Final Thoughts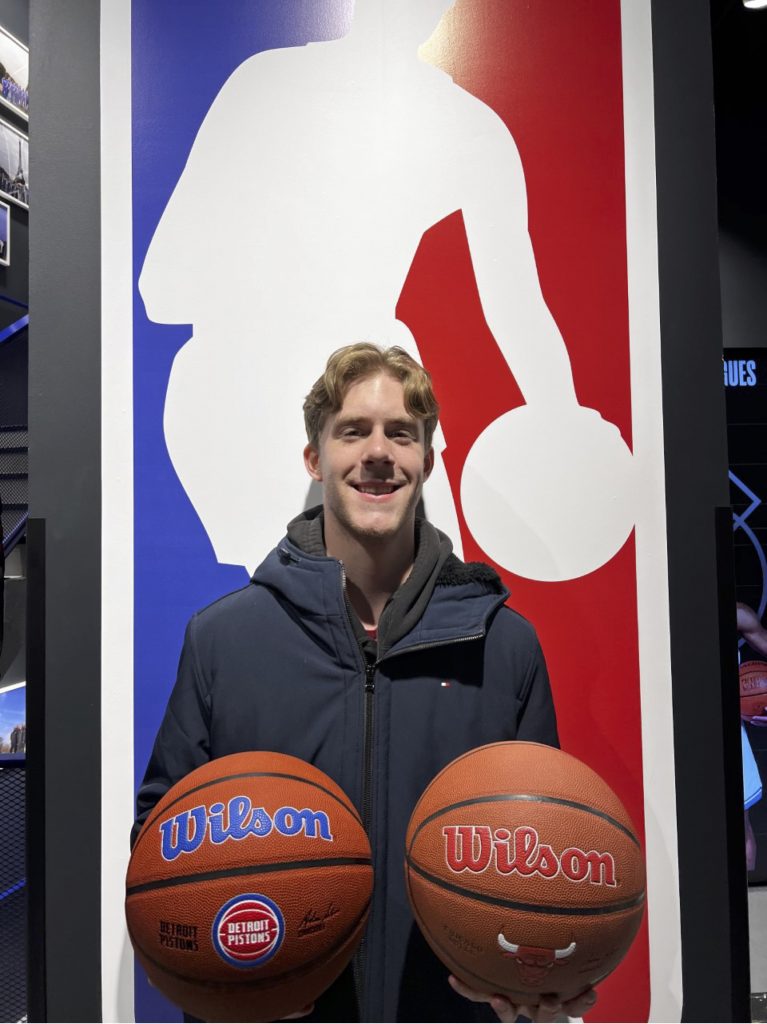 All in all, my favorite aspect of the program was definitely the bonds I made with my peers. Before the program, I was a bit nervous because I didn't know any of the other 23 students very well. I knew a few of them from classes, but I wouldn't have considered myself super close with any of them. By the time we were leaving Paris, I felt like I had known these people my whole life.
Our shared experiences on that program forever bonded us. We made enough memories in that short week to last us a lifetime: the Karaoke nights, touring Stade de France, the cruise of the Seine and much, much more. I feel as if I now have 23 new best friends.
It was also really cool to get to know my professors on a deeper level as well. I feel like I connected with every member of the program in some positive way. The memories we made are some that I will hold on to for the rest of my life. Overall feedback on the program is "10/10, wish it didn't have to end!"
Posted: March 13, 2023
Category: NBA in Paris, Sports, Study Abroad Projects
Tagged as: NBA in Paris, Paris, Roxane Coche, sports, Sports@CJC, Study Abroad, Study Abroad experience, Ted Spiker