Brechner Center Director Frank LoMonte Joins CNN as Legal Counsel
Frank LoMonte, University of Florida College of Journalism and Communications (UFCJC) Brechner Center for Freedom of Information director, joined CNN in Atlanta on Feb. 1 as a new counsel. He joined the Brechner Center as director in 2017 after serving for 10 years as executive director of the Student Press Law Center in Virginia.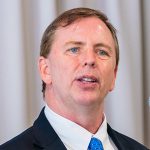 LoMonte is a tireless advocate for transparency at all levels of government and for the right for public employees to speak to the media, particularly during the pandemic. He also was very active in advocating for student First Amendment rights on and off campus, and for transparency in hiring of higher education leaders. He led a team that studied the financial state of college newspapers, with a focus on editorially independent student-run media and how the COVID-19 pandemic has affected the sustainability of campus journalism.
His accomplishments during his tenure at UFCJC include:
Creating an interdisciplinary peer-reviewed publication, The Journal of Civic Information, that showcases fast-turnaround research addressing the most pressing problems in law and technology impeding the flow of essential information.
Organizing a nationwide awareness campaign, "Government Gagged," that calls attention to the pervasive problem of unconstitutional governmental restraints that forbid police, teachers, college athletes and others from speaking to the media. 
Launching the investigative podcast "Why Don't We Know," hosted by Pulitzer Prize-winning journalist Sara Ganim, which won first place for public service in the Education Writers Association's national competition in the show's inaugural season.
Joining UF's Levin College of Law in convening "Technology, Media & Privacy Law," now in its fifth annual edition, a gathering of global scholars, journalists and legal practitioners debating cutting-edge issues at the intersection of newsgathering and personal privacy.
Publishing two book chapters and studies in 20 academic journals analyzing contemporary issues in the law of free speech and freedom of information, as well as dozens of opinion columns in publications including The Washington Post and Slate.
LoMonte will continue to teach two classes through the end of the spring semester. The College has begun the process of recruiting a new director.
The Brechner Center, founded in 1977, works to educate journalists, policymakers and the general public about the law of access today and how it should work tomorrow. The Center is a source of research, expertise and advocacy about the law of gathering and disseminating news across all platforms and technologies.
Posted: February 1, 2022
Category: Brechner Center, College News
Tagged as: Brechner Center for Freedom of Information, Frank LoMonte