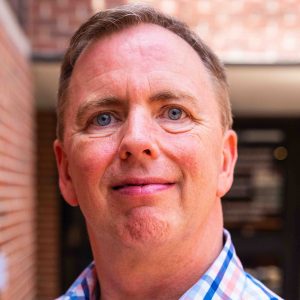 Frank LoMonte, J.D.
Director - Brechner Center for Freedom of Information
Bio
Frank LoMonte was named director of the Brechner Center in August 2017.
Previously, he was the executive director of the Student Press Law Center (SPLC) in Washington, D.C. since 2008.  During his tenure, he launched a number of major programming initiatives, including the "New Voices" initiative that has resulted in enactment of fortified legal protections for student journalists in 13 states, and the "Active Voice" fellowship program for college undergraduates to design "press freedom service projects" amplifying the voices of young women, who experience the brunt of school censorship.
Before joining the SPLC, LoMonte practiced law with Sutherland Asbill and Brennan LLP in Atlanta and clerked for federal judges on the Northern District of Georgia and the Eleventh Circuit U.S. Court of Appeals.
Prior to embarking on his legal career, he was an investigative journalist and political columnist. He was the capitol correspondent for the Florida Times Union (Jacksonville), Washington correspondent for Morris News Service and the Atlanta bureau chief for Morris.
He was the Otis Brumby Distinguished Visiting Professor of Law at the Georgia Law School in spring-summer 2014 and has been a lecturer since 2015 in the University of Georgia Washington Program, teaching a course for undergraduates on "Law of Social Media."
Frank received his B.A. from Georgia State University in 1994 and his J.D., from the University of Georgia School of Law in 2000 magna cum laude. His work on behalf of open government and journalists' rights has been recognized with numerous awards, including the American Library Association's "Freedom to Read Foundation Roll of Honor" and the National Press Photographers' Association First Amendment Award. The College Media Association offers an annual award in his name to honor special distinction in ethical journalism.​
Education
J.D., University of Georgia School of Law, 2000
B.A., Georgia State University, 1994
News
Publications
Putting the 'Public' Back into Public Employment: A Roadmap for Challenging Prior Restraints That Prohibit Government Employees from Speaking to the News Media, 68 Kan. L. Rev. 1 (2019)
The Open Mic, Unplugged: Challenges to Viewpoint-Based Constraints on Public-Comment Periods, 69 Case Western Reserve L. Rev. 19 (2018-19) (lead author, with C. Calvert)
The Cost of Closed Searches, Academe, American Ass'n of Univ. Prof's. (Spring 2019)
The Legislative Response to a Perceived "Free Speech Crisis" on Campus, Communications Lawyer, American Bar Ass'n (Winter 2019)
"Failing New York Times" v. Trump: Is There a First Amendment Claim for Official Condemnation by Tweet?, Communications Lawyer, Vol. 33, No. 3 (Winter 2018) (lead author, with L. Riedemann Norbut)
How Communities Can Increase Civic Engagement by Protecting Their Student Journalists' Rights to Express Themselves, in Re-Imagining a 21st Century Democracy, Brown Univ. Swearer Ctr., Vol. 1 (2018) (lead author, with S. Gordon & P. Bobkowski)
Freedom of Information Laws, Social Education, National Conference for the Social Studies (September 2017)
Students Do Not Shed Their Constitutional Rights at the Login Screen: Slamming the Schoolhouse Gate on School Control Over Social Media Speech, Education Law & Policy Review (September 2015)
Fouling the First Amendment: Why Colleges Can't, and Shouldn't, Control Student Athletes' Speech on Social Media, Journal of Business & Technology Law (Fall 2014)
College Sports and Social Media: Leave Your Rights in the Locker Room? ABA Section of Litigation Newsletter, April 2014
The Key Word is 'Student': Hazelwood Censorship Crashes the Ivy-Covered Gate, First Amendment Law Review (Winter 2013)
Shrinking Tinker: Students are Persons under Our Constitution – Except When They Aren't, American University Law Review (June 2009)
Courses
Syllabi from the current and three previous semesters: