Actress/Model/Entrepreneur Fulfills a Dream By Pursuing an Online Bachelor's Degree 
By Lenore Devore, B.S. Journalism 1984 
After a successful modeling and acting career, Public Relations student Danielle Camastra started her own business to give back to the world. But she still yearned for one thing: a four-year degree. Now, at 43, she's pursuing that in the College of Journalism and Communications' online program.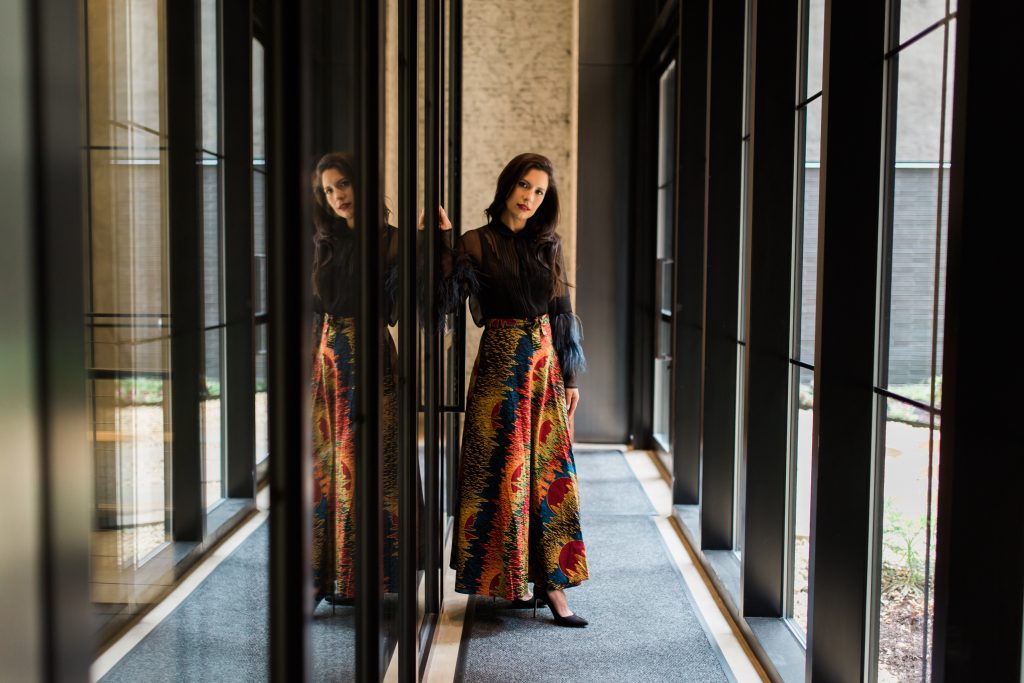 Camastra is using what she's learning at UF in the real world as the co-founder of Love + Kind, a company that empowers artisans in Tanzania, Africa, to produce and sell handmade goods, providing them with a sustainable future.  
Her path to UF started after she graduated at 16 from Cypress Lake Center for the Arts, a performing arts school in Fort Myers, Florida. She started acting in commercials for companies like Levi's in Miami and screen-tested for the lead role in the movie "Selena" just as she was starting to get her associate's degree at Florida Southwestern State College (Edison). Passed over in favor of Jennifer Lopez, she realized she was too young to move to Los Angeles or New York on her own. And, she wanted to complete her associate's degree because she knew she would return to college one day to get a bachelor's degree.  
After completing her associate degree, she acted, modeled and produced for more than 20 years. She had roles in movies including "The Invitation," "Price of Glory" and "English as a Second Language;" TV shows like "MDs;" and in TV commercials for brands such as L'Oreal, Dominos, Sears Craftsman and Canon. 
During her time in California, she learned about diversity and being type-cast as a Latina actress. "When I went to Hollywood, I had no preconceptions about who I was and what I represented. I didn't realize I was ethnic," said Camastra, whose mother is Colombian and father is German-Italian. "When I went to LA, I was Mexican in whatever room I walked into." 
She quickly realized all Latina roles were "dumbed down." "Nothing dictated it except they were a Latina character," she said. "I wanted to be a warrior, wanted to fight. But it was a big fight. Now, 20 years later, it's just starting to change for women of color. A lot of times I turned down jobs." 
In 2008 in New York, she started modeling as well, and was cast in lead roles instead of as the ethnic "friend." "I embraced it. I felt confident." 
But in 2015, she started to become disillusioned with where things in her life were going. Her younger brother asked her what she was doing to give back to the world. "In that moment, it hit me. It was the moment I realized that I wasn't giving back. I was complaining about the things that weren't working in my life. " That was the spark for an idea which became Love + Kind.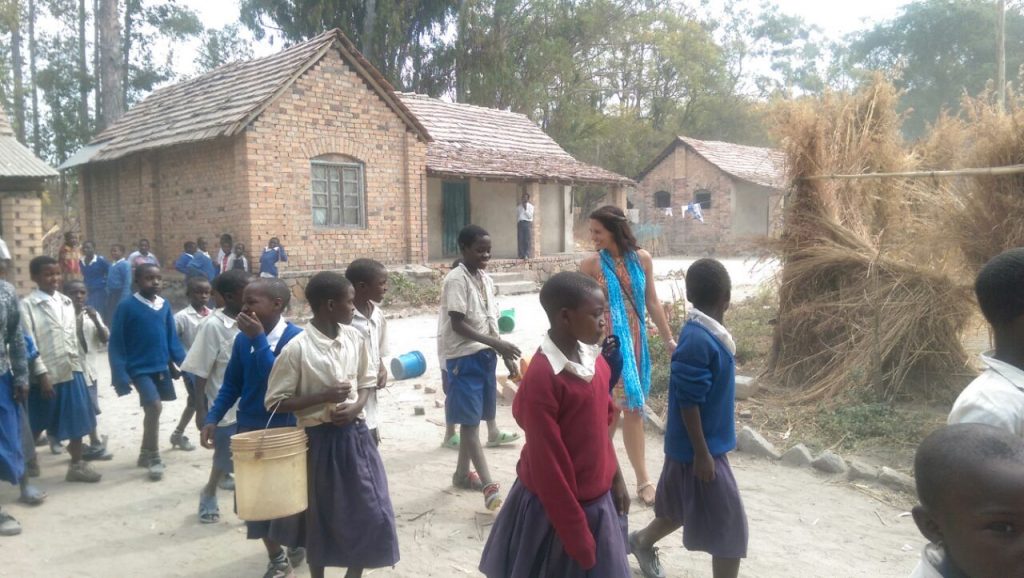 She raised money and went on a water-well building trip to Tanzania with the nonprofit group E.P.I.C. (Everyday People Initiating Change). "Aside from giving birth, it was one of the best experiences of my life. I went with the intention to give, but I received so much more." 
 There, Camastra met Irene Mkini Lugalla, a highly educated woman and now her director of production, who told her about Mama Joshua, whose house burned down. With three kids and one on the way, Mama Joshua was living in the corner of someone else's home. "She's a tailor, so if you want to help her, go into town and buy fabric and have her make you whatever you want," Lugalla told Camastra. 
Mama Joshua made Camastra seven wrap skirts. Impressed and touched, Camastra bought everything else she made to bring back to friends as souvenirs.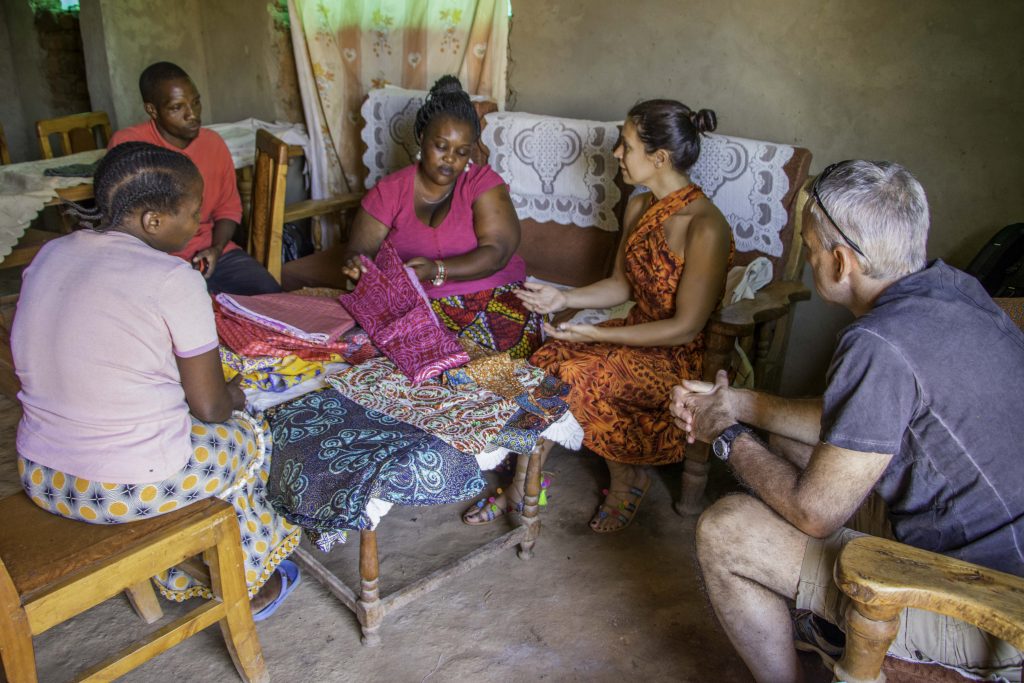 Back in New York, with encouragement from her fiancé Jim, she started envisioning Love + Kind. She returned to Tanzania three times. One friend who joined her, a fashion designer, taught five women there advanced skills. "That trip took us to another level. The work became very polished and uniform, but at the same time using these incredible fabrics that are different and very specific to Tanzania, but also universal. I loved being able to bridge that culture and that beauty, and bring that to this part of the world and have women appreciate it." 
In some ways, the women there are more progressive than American women, she said. "The skirts are made by women who work from their homes. I'm working with entrepreneurs who dictate their own terms. They have been making their own hours since before the pandemic. If they want to sell more, they make more."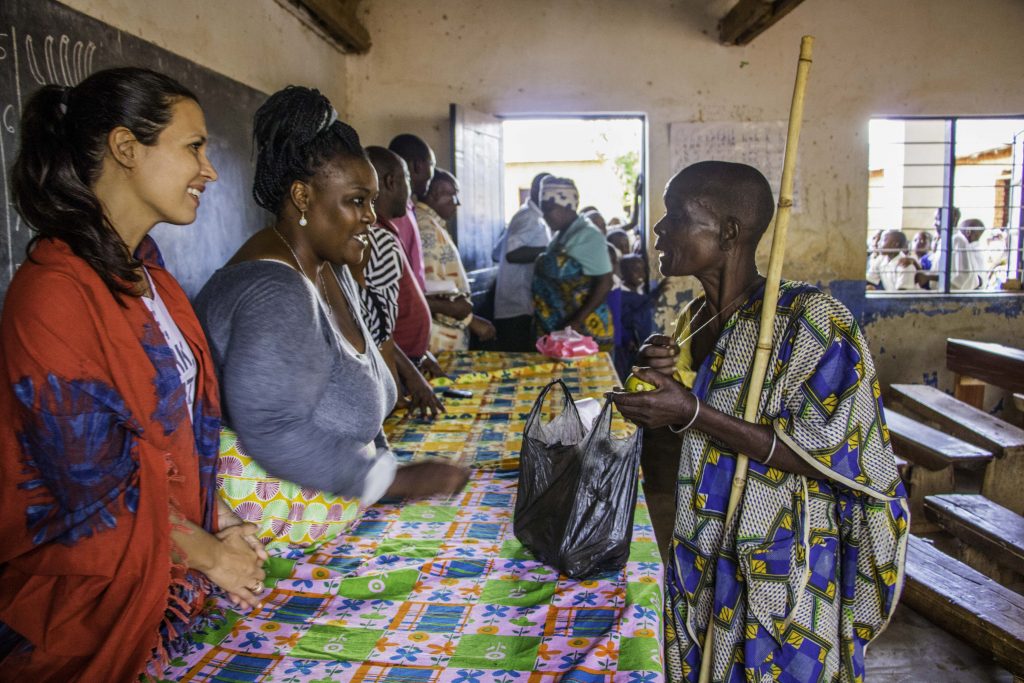 All of this time, she was still itching to complete her bachelor's degree. Her best friend from high school, who is completing her master's at UF, suggested Camastra pursue public relations based on her interests and skillset. 
Camastra enrolled in UF as a junior in fall 2021 and plans to start the combined bachelor's/master's program online in the summer of 2022. She currently is living in Bermuda with Jim, who she plans to marry in 2022, and daughters James Valentina, 3, and Dylan Adeline, 2, as part of the one-year Digital Nomad Residency Program. Camastra said the UF program makes this time in her life exciting. She feels inspired by Public Relations Department Chair Marcia DiStaso, who has been a wealth of knowledge for her, and Journalism Department Instructor Tim Drachlis, whose reporting class returned her to her love of writing.  
"I think my approach as an adult is very different from what it would have been had I finished college right out of high school. It's also a little different in the sense that I don't need a degree, I want one, so I enjoy my assignments and feel super comfortable sharing my experiences with my professors so that I can maximize what I get out of the class. It's not just about satisfying a credit but more of how can this enhance my day-to-day with where I want to go next in my life." 
Camastra has advice for today's PR students: Talk to your professors and ask them when you will use what you are learning. "Take it all in and slow down if you need to. Don't just take classes to get a credit. The Sight, Sound and Motion class I'm taking now is super helpful. It's teaching us how to create your own website, your business card. These are such amazing tools you need in the future, not necessarily in the moment. The PR program and UF is really strong. The things that we're learning are not frivolous. They are things that you will take with you." 
Posted: December 6, 2021
Category: College News, Diversity News, Profiles
Tagged as: Danielle Camastra, Love + Kind, Online Degree, Public Relations