Benjamin Johnson Comments on the Proliferation of Film and Program Spoilers
Benjamin Johnson, University of Florida College of Journalism and Communications Advertising assistant professor, is quoted in "How Trying to Avoid Spoilers in 2021 Became Futile" published on IGN.com on June 25.
The article focuses on "spoilers" that reveal the endings of popular programs and movies and how they have become more difficult to avoid. Johnson's research includes studying spoiler culture.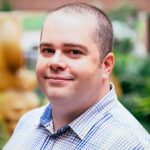 "The environment around media consumption has changed so we're talking more to each other online about content. There are more reviews, and they're more accessible," Johnson said. "If I go into my social media news feed now, I'm seeing spoilers or reviews from TV shows that aired last night."
In a 2019 interview with Vox.com, Johnson said, "small spoilers aren't quite as powerful as people think they are," but added that if people are given "spoilers and they don't want them or they're not expecting them, that can make them feel like they've lost control over the viewing experience or the reading experience."
Posted: June 29, 2021
Category: College News
Tagged as: Benjamin Johnson