Taylor Ashley Joins UF STEM Translational Communication Center
The STEM Translational Communication Center (STCC) at the University of Florida today announced that Taylor Ashley has joined the Center as a postbaccalaureate research assistant. The appointment is effective from June 24, 2021 through June 30, 2022.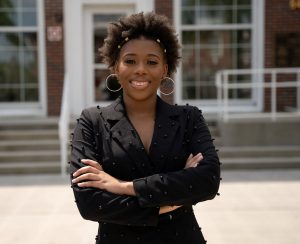 Ashley is joining the Center as part of UF Health Cancer Center's Postbaccalaureate Research Education Program. The selection committee said that Ashley has "the skills, qualifications, and potential to become a cancer researcher in the program."
"I am delighted to welcome Taylor Ashley to the STCC family, and to serve as her co-mentor in the program alongside [Postdoctoral Associate] Eric Cooks," said STCC Director Janice Krieger. "The STCC has a long and productive relationship with Dr. Danyell Wilson at Bethune-Cookman, and we are delighted to have one of her mentees join us in Gainesville. As part of this program, Taylor will have the opportunity to learn more about how translational communication contributes to cancer control and population sciences. I know great things are in store for her!"
Ashley is a recent graduate of Bethune-Cookman University in Daytona Beach, Florida, earning a Bachelor of Science in Biology.
Her research focuses on using a virtual clinician named ALEX (Agent Leveraging Empathy for eXams) to help men understand the differences between prostate and colorectal cancer. She previously worked with the University of Florida and Bethune-Cookman for her senior thesis to create her own ALEX character and eliminate confusion that exists between the two cancers. Previously, she worked on a research project that focused on the effects community health workers had on cancer health disparities.
Ashley was part of a team of researchers from Bethune-Cookman and UF whose article, "The Development of a Credible Virtual Clinician Promoting Colorectal Cancer Screening via Telehealth Applications for and by Black Men: A Qualitative Study," will be published by the Journal of Medical Internet Research.
Posted: June 29, 2021
Category: College News, STEM Center News, Why Alex
Tagged as: STEM Translational Communication Center, Taylor Ashley