Roxane Coche Authors Article on Student Virtual Exchange Collaboration with the University of Brighton
Roxane Coche, University of Florida College of Journalism and Communications (UFCJC) Sports Journalism and Communication associate director and Telecommunication assistant professor, is the author of "Course Internationalization Through Virtual Exchange: Students' Reflections About 'Seeing the World Through the Lens That is Soccer'" published in Journalism & Mass Communication Educator on May 15.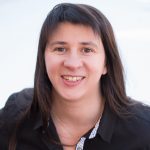 Coche focuses on a virtual exchange project with the University of Brighton. Led by Coche and UFCJC Director of Sports Journalism and Communications Eric Esterline, the collaboration offered students in the U.S. and the U.K. the opportunity to work together during live, synchronous classes and create collaborative multimedia projects over two months.
According to Coche, "Virtual exchange is an emergent but promising trend in course internationalization, which consists of using technology to interact and work with another class located in another city/country to develop digital skills and intercultural competence. After a virtual exchange project was implemented in a sports-related communication course. Despite some complications, students indicated they learned much about cultural differences and would be keen to repeat the virtual exchange experience."
She adds, "The students were eager to network with fellow media students 'across the pond.' Despite complications created by a strike in the British education system and the COVID-19 pandemic, students indicated they learned about cultural differences and honed skills they expect to use in the industry." They also gained social and communication skills that can be used not only in a virtual environment but 'in real life' as well. They increased their multicultural competence and are thus better equipped to face a global work environment."
Posted: May 17, 2021
Category: College News, Diversity News and Profiles
Tagged as: Eric Esterline, Roxane Coche