Frank Waddell Named a 2020 Journal of Media Psychology Distinguished Reviewer
Frank Waddell, University of Florida College of Journalism and Communications Journalism assistant professor, was named a 2020 "Distinguished Reviewer" by the Journal of Media Psychology. The honor is in recognition for excellence in academic quality assurance and service to the journal.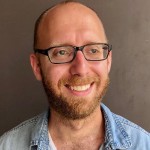 Waddell was nominated by the Journal's Associate Editors based on annual submissions and the average number of reviews per submission. He is considered among the top 2% of reviewers.
Waddell was also named a "Distinguished Reviewer" in 2016 and was selected as one of two "Top Reviewers" for Mass Communication and Society in 2020.
Posted: March 31, 2021
Category: College News
Tagged as: Frank Waddell