Frank Waddell Receives Mass Communication and Society Top Reviewer Award
Frank Waddell, University of Florida College of Journalism and Communications Journalism assistant professor, has received one of two Mass Communication and Society "Top Reviewer" awards.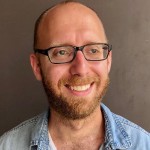 The annual award recognizes a scholar who has done an outstanding job reviewing papers. This year, two scholars were chosen for their service. The award includes $500 that will be presented at the virtual Association for Education in Journalism and Mass Communication (AEJMC) conference in August.
In May, Waddell received AEJMC's Journalism and Mass Communications Quarterly 2019 Outstanding Article Award for "Can an Algorithm Reduce the Perceived Bias of News? Testing the Effect of Machine Attribution on News Readers' Evaluations of Bias, Anthropomorphism, and Credibility."
Waddell, whose research includes work related to automated news, the psychology of online comments, and the effects of social television, is also a Trust Scholar with UF Consortium on Trust in Media and Technology.  For the Consortium, he is studying how sexist portrayals of journalism in popular films and television shows affect our trust of journalists in everyday life.
Posted: July 7, 2020
Category: College News, Trust News
Tagged as: Frank Waddell