Benjamin Johnson Comments on the Popularity of Spoilers
Benjamin Johnson, University of Florida College of Journalism and Communications Advertising assistant professor, is quoted in "Spoiler Alert: Spoilers Can Be Good for Business" published on Morning Consult on Dec. 22.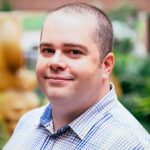 The article focuses on entertainment programming spoilers. Many viewers seek them out to help them decide whether or not something is worth watching.
According to a August 2011 paper in Psychological Science, spoilers have very little impact on a viewer's enjoyment of content, and that learning spoilers can help audiences better understand what they watch.
Johnson said that while spoilers can provide a sense of control over what people are watching – either to avoid content they may find upsetting or simply to make sure it appeals to them before they spend hours consuming it – his research has shown that viewers sometimes have "reactance" to spoilers.
"People feel like their choices are taken away," Johnson said. "If you give me a spoiler, you can't undo that damage. Things are out of Pandora's box."
In 2019, Johnson published "Spoilers Go Bump in the Night" in the Journal of Media Psychology. A summary of that research is available here: https://www.jou.ufl.edu/insights/spoilers-go-bump-in-the-night/.
Posted: December 22, 2020
Category: College News
Tagged as: Benjamin Johnson