Benjamin Johnson Comments on Movie Spoiler Effects
Benjamin Johnson, University of Florida College of Journalism and Communications Advertising assistant professor, is featured in "Don't Tell Me! The Science of Spoilers" published on Canvas8 on Nov. 1.
Canvas8 is a consumer behavior insights practice offering expert analysis on the latest trends.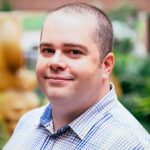 Johnson has researched the effect that television and movie spoilers have on viewers and found that most people try to avoid spoilers. He found that spoilers often have little to no effect on enjoyment, and for some people having a portion of the plot revealed can heighten the experience. He adds that this knowledge can also be used by online advertisers or reviewers to help increase people's interest in a film and make people more engaged.
Johnson notes that spoilers aren't always a bad thing. "With some 250 million monthly users of IMDb, online communities are growing around entertainment that offers fans sneak peeks at new releases. But it seems there might be a time and place best suited to this kind of information."
A summary of a previous article based on Johnson's spoiler research is available on CJC's Research and Insights site.
Posted: November 7, 2019
Category: College News
Tagged as: Benjamin Johnson