The Agency Hosts Its First Super Bowl Advertisement Trust Review
The Agency at the University of Florida College of Journalism and Communications (UFCJC), UFCJC Ad Society and the UF chapter of the Public Relations Student Society of American (UF PRSSA), partnered to create the first-ever Brand Bowl during the Super Bowl on Feb. 3.
The Brand Bowl was designed to provide students with an opportunity to analyze the trustworthiness of Super Bowl ads.  During the game, 26 students evaluated the ads in various categories including honesty, brand trust and if viewers would consider purchasing the brand.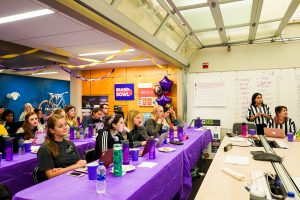 Google was chosen as the most trusted advertiser over Weathertech, Microsoft and Alexa. As the winner, Google and its creative advertising agency will receive the Brand Bowl "Trust in Advertising" trophy along with an invitation to speak to UF students about the winning commercial. Mint Mobile's ad was named the least trustworthy.
"In working with student leaders from Ad Society, PRSSA and The Agency, we felt that evaluating the Super Bowl ads based on measures of trust would be a really interesting angle to explore," said Dan Windels, UFCJC Advertising visiting lecturer. "The Brand Bowl is a real-time survey of advertising on its biggest stage. I hope everyone that participates has an amazing story to tell after the experience. Having worked in advertising myself, I would have loved hearing this story from someone interviewing for an internship or job."
Posted: February 6, 2019
Category: College News, Student News
Tagged as: Dan Windels, The Agency, UF Ad Society, UF PRSSA