UF CJC Honors Students, Faculty and Alumni at Annual College Awards Banquet
The University of Florida College of Journalism and Communications honors its best and brightest students, faculty and alumni each year. The annual College Awards Banquet was held on April 20 at the UF Hilton and Conference Center in Gainesville.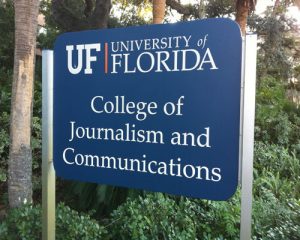 Telecommunication senior Andrew Briz received the Ruth and Rae O. Weimer Award – the highest award for students. Advertising Associate Professor Robyn Goodman won Teacher of the Year, Advertising Associate Professor Carla Fisher won the Faculty Research Award and Journalism Professor Kim Walsh-Childers  won the Faculty Service Award.
The College also honored four Alumni of Distinction: Erin Jill Andrews, B.S. Telecommunication 2000; Marnie Kain Cacossa, B.S. Advertising 1989; Charles Tobin, B.S. Journalism 1984; and Judy DeRango Wicks, M.A.J.C. 1984.
Following is the full list of faculty and student awards.
College-wide Awards
Ruth and Rae 0. Weimer Award: Andrew Briz
Dean's Cup for Professional Promise: Caitlin Ostroff
Dean's Cup for Scholarship: Caroline Jinks, Josie Kuhlman and Keiran Sheridan
Dean's Cup for Service: Morgan Ginn
Faculty Awards
Graduate Studies and Research Awards
Julie Dodd Outstanding Graduate Student Teaching Award: Phillip Arceneaux and Bruce Getz
Outstanding Master's Student: Liandra Larsen
Outstanding Student Research Award: Ah Ram Lee and Austin Vining
Department Awards
Advertising
Outstanding Advertising Scholar: Caroline Jinks
Joseph R. Pisani Service Award: Morgan Ginn
Robert Glafcke Award: Victoria Alsina
Richard W. McGinnis Professional Promise Award: Nuchanart Tuntiserirat
John Sutherland Great Ideas Award: Lauren Perez-Maiy
Respess Award: Sarah Bodman
Journalism
Outstanding Journalism Scholar: Katie Mellinger
John Paul Jones, Jr. Award: Ethan Bauer
Elmer Emig Award: Drea Cornejo and Caitlin Ostroff
G. "Buddy" Davis Award: Melissa Gomez
Society of Professional Journalists Award: Gabrielle Calise
Jean Chance Service Award: Andrew Briz
Public Relations
Outstanding Public Relations Scholar: Josie Kuhlman and Keiran Sheridan
Frank F. Rathbun PRSSA Award: Nicole Graney
Charles Wellborn Service Award: Aleksandra Karczmiarz
Jack Detweiler Professional Promise in Public Relations Award: Natalie Calvo and Jordan Folkes
Florida Public Relations Association Award: Demitroula Wolfe
Telecommunication
Outstanding Telecommunication Scholar: Amanda Brennan and Andrew Briz
Major Garland Powell Award: Bonnie Katz
May Burton Award: Amanda Deery and Sabrina Simpson
Leslie Smith Management Award: Andrew Wright
WJXT-TV Award: Alexa Lorenzo
The Agency
The Somebody Award, Spring 2017: Lauren Maloney
The Somebody Award, Summer 2017: Sasha Sakay
The Somebody Award, Fall 2017: Abigail Kneal
The Somebody Award, Spring 2018: Cole Kraft
Media Properties
Jon Quattlebaum Award for Outstanding News Student: Daniela Hurtado
Ralph L. Lowenstein Broadcast News Award: Shamarria Morrison
Kenneth A. Christiansen Award for Service to WUFT-TV/FM: Ramsey Touchberry
Frank Counts Award for Television News Production: Rachel Trent
"Red" Barber Award: Savanna Collins
Doris Bardon Award for Overall Excellence in Broadcasting at WUFT-FM: Luke Sullivan
Excellence in Digital Media Award: Drea Cornejo
Excellence in Multimedia Meteorology Award: Lee Southwick
Excellence in Media Leadership: Andrew Briz and Bonnie Katz
Posted: April 20, 2018
Category: Alumni News, College News, Student News
Tagged as: Annual CJC Awards