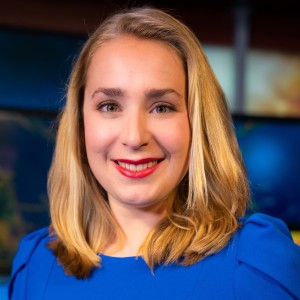 Megan Borowski
Multimedia Meteorologist - Division of Media Properties
Bio
Megan Borowski is the newest addition to the WUFT Weather Team, the Florida Public Radio Emergency Network, and the South Carolina Emergency Information Network.  As a New Jersey native, Megan completed her B.S. in Meteorology from Rutgers University. She was formerly a freelance meteorologist for ABC News in New York City where she produced content for Good Morning America's Ginger Zee and Rob Marciano. Megan's prior work also included forecasting for WNBC and interning at the National Weather Service.
Megan credits her love of weather and nature to her annual family visits to Florida; she would watch squalls of summer thunderstorms race over the Gulf of Mexico sending bolts of lightning and torrents of rain to the coastline in the distance. This sparked a curiosity to understand "why" and "how" storms develop, so it's only fitting that Megan now serves as a meteorologist in the state that inspired her career aspirations!
When she's not forecasting, Megan enjoys spending time outdoors– kayaking, hiking, and bird-watching. She also loves to reading, baking, and spoiling her dog.
News