CJC Meteorologist Megan Borowski Explores Impact of Climate Change and Weather Forecasting
By Lenore Devore, B.S. Journalism 1984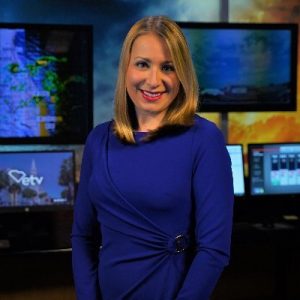 The biggest challenge for broadcast meteorologists today is keeping up with the changing needs of the audience, people who prefer getting their news and weather from social media and apps. Making sure they use the best method of communication is critical, but so is getting the forecast right.
Megan Borowski, on-air meteorologist for WRUF-TV/FM/AM and WUFT-TV/FM who is getting her master's degree in geography with a concentration in atmospheric science, plans to research forecasting accuracy to better serve audiences.
"I will do a research project that will focus on verifying weather forecast models. The main aspect will involve verifying model forecasts of the sea breeze thunderstorms we get in Florida every afternoon from May through September," she said. "The models are a huge part of a meteorologist's job. We're looking at them for guidance, and then we use our expertise in local geography and microclimates to create our own forecasts. I'm interested in seeing how right these models are and whether there is a way to make them better."
Borowski arrived at CJC in 2019 after earning her bachelor's of science degree in atmospheric science and meteorology at Rutgers University and freelancing for ABC's "Good Morning America" in New York. There, she created graphics and worked in production. But she wasn't fully satisfied.
"I thought I wanted to go into teaching or mentoring, so I wanted to find something that involved that. And I love meteorology. I saw the listing at UF, and there was the whole scientific side, which I really love and want to pursue, and I could still work with students."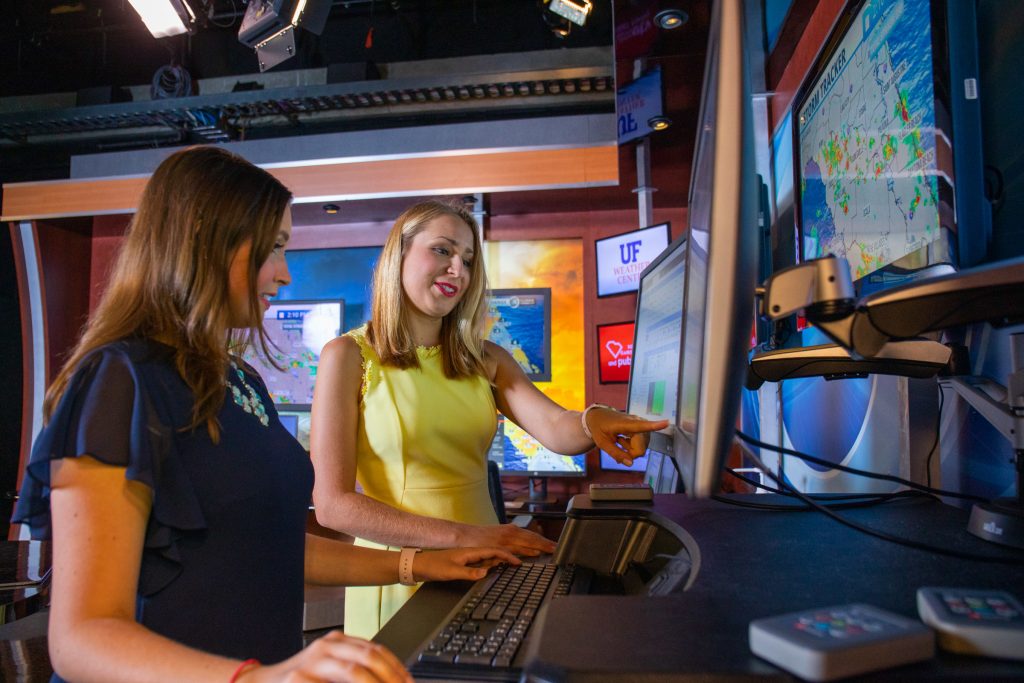 Her love of the weather started when she was 3, when her father played thunder and lightning CDs in the car to relax. "Almost every summer we went to Florida to the Atlantic or Gulf coasts, and I remember sitting and watching thunderstorms roll in with my dad. Watching the power of nature was amazing to me."
Her love of UF comes from her mother, a graduate of the Levin College of Law who always wanted to stop in Gainesville on their vacations. "Both parents influenced where I am right now," she said.
Right now, she is reading as much research literature as possible to learn about climatology and meteorology. Trying to get audiences to understand the difference between climatology – a history of weather conditions experienced over a long period of time – and meteorology – day-to-day weather – is a challenge.
"The effects of climate change are like a domino effect. Changes in the concentration of gasses in the atmosphere can result in a difference in global mean temperatures. This, in turn, can impact humidity levels, distribution of cloud cover and precipitation, and ocean currents, among other things. And all of that can impact the day-to-day weather events we experience," she said. "And that could lead to more weather extremes like stronger hurricanes. But even when a strong storm forms, it's hard to say while it is occurring that the event is a result of climate change. You've got to look at data from past events, and all the current atmospheric signals and try to identify a change in trends."
She'll be explaining more about climate change as the WUFT Weather Team adds new forms of content like podcasts "that actually address the science of climate change."
The climate is changing, she said, because environmental conditions are changing. "It's a natural response of Earth to human-induced activities, and it's all a response of trying to seek equilibrium. …With humans around, there will be human impact on the environment. But it's getting to the point where human activities are amplifying changes in the environment and causing extreme fluctuations. It's really more of an issue of how is global climate change going to impact human society? We know the environment is resilient and will adapt to change. However, humans are stubborn, and most of us are used to the lifestyles the way we are now. But if you have a changing environment and changing resources available to us, it's going to be an issue. We're going to have to bend or we'll break."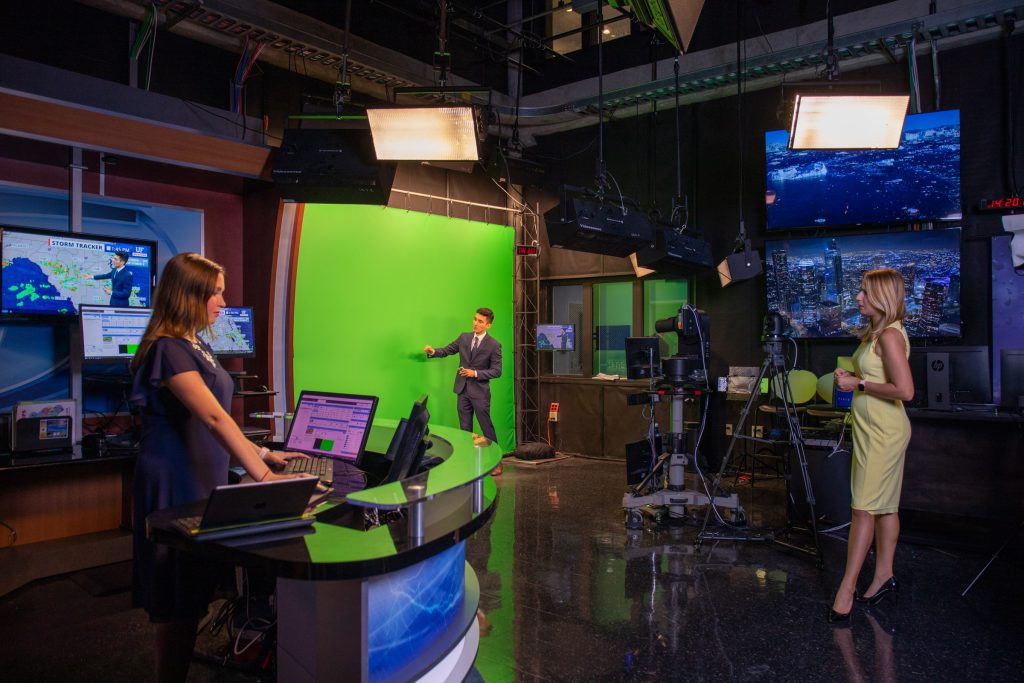 Hurricane season is always challenging, Borowski said, because there is a constant demand for content. "It's a constant flow of getting information in from the National Hurricane Center or the local NWS (National Weather Services) offices, quickly parsing through long reports, getting out the most important information from those reports and presenting it in a way that's quickly digestible by our audience."
During her first summer at UF, she and two other meteorologists were preparing for Hurricane Dorian, which was forecast to hit Florida as a Category 5. "It was quite a daunting prospect. At the same time, it was exciting and exhilarating because you are able to positively impact and help people get ready and evacuate if need be."
A high-pressure system kept Dorian from making landfall over Florida. But it was the first time she took a step back and said, "Oh boy, this is the real deal. This is not play time. This is important. The role itself is important because we're here to inform people during times of disaster."
Borowski leads an introductory lecture to basic meteorology. It's the beginning of a potential move to teaching more often. For now, though, she enjoys working with students and has three pieces of advice she hopes they heed:
Go into everything willing to put in the time and willing to listen to all sides and perspectives. "Don't come in with a closed mind."
Seek out every opportunity to work in the field you are interested in. "You might not get paid for it, but the experience you get will serve you down the line."
Remember that the world doesn't owe you a thing. "It is your responsibility to be in charge of your fate; don't harbor the idea that 'people owe me this' or 'I should get that.' You need to be willing to work and seek opportunities to expand your mind. Put in the work and down the line you will reap the investment."
When she's not forecasting the weather, she likes to be outdoors. Her hobbies include everything from hiking, biking and birdwatching to horseback riding and playing with her terrier mix Chester. And when her boyfriend isn't stationed overseas as part of the Army National Guard, she spends time with him, a doctoral candidate at the University of Central Florida.
Posted: March 31, 2022
Category: College News, Profiles
Tagged as: Climate change, Megan Borowski, Meteorology, Weather