MICHAEL CONNELLY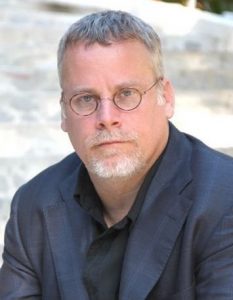 Best-selling and critically acclaimed author Michael Connelly returned to his educational roots at the University of Florida on Sept. 21, 2015 to talk about the art and craft of storytelling.
Connelly—a 1980 graduate of the College of Journalism and Communications—is a former crime reporter for the L.A. Times and has written nearly 30 novels and sold more than 60 million copies. He is a writer and producer of the Amazon Prime TV series "Bosch," based off his character Harry Bosch. Connelly's visit kicks off the College's new Great Storyteller series.
Connelly's Blood Work and The Lincoln Lawyer novels were both adapted to full-length movies.
His #1 New York Times bestsellers include The Burning Room, The Gods of Guilt, The Black Box, The Drop, and The Fifth Witness.  His next novel,The Crossing, will be published on November 3, 2015.
Journalism professor Mike Foley  interviews Connelly.
Selected Tweets