Herbert Lowe Authors Article on UFxFAMU1963 Student Expedition to Report on the U.S. Civil Rights Trail 60th Anniversary
Herbert Lowe, University of Florida College of Journalism and Communications (UFCJC) Journalism senior lecturer, is the author of "Four Girls, 60 Years, 11 Students, 2,800 Miles and a New Awareness of History" published on neimanstoryboard.org on Sept. 15.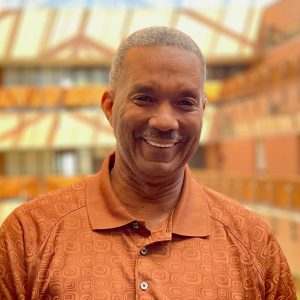 During Spring Break 2023, Lowe and three other faculty advisers led a group of students from UFCJC and Florida Agricultural and Mechanical University (FAMU) School of Journalism & Graphic Communication on an eight-day, 2,800-mile reporting trip named UFxFAMU 1963. They traveled across the U.S. Civil Rights Trail in Alabama, Arkansas, Georgia, Mississippi and Tennessee to chronicle the 60th anniversary of the movement.
Lowe writes, "Last semester, our students revisited that history through a journalistic lens. The goal of the reporting trip was not just to help them see how history informs the present — including how it has shaped their own lives — but to understand journalism's role in social movements. A further goal was to help them see how a journalistic inquiry can enhance clarity, relevance and empathy. I enjoy enabling students — whether or not they want a journalism career — to understand those connections."
Lowe prepared the students for the trip by requiring them to read "The Race Beat: The Press, the Civil Rights Struggle and the Awakening of a Nation," written by journalists Gene Roberts and Hank Klibanoff and winner of the 2007 Pulitzer Prize in History. Through the book, they discovered how many journalists risked their lives and livelihoods to show the nation what was happening in the south.
"From driving all 2,800 miles of the trip myself to having to find hotel rooms in multiple cities, UFxFAMU1963 is the most difficult and most rewarding experience of my academic life. I will never forget watching the students, for example, come to tears as a grandmotherly civil rights activist in Alabama recounted for them what she fought for and through as a young mother in the '60s; at the same time, those students stayed professional, using their high-caliber audio and video equipment to capture the group interview," writes Lowe. "It was just one of the moments that made all the planning worthwhile."
He adds, "I'm grateful these 11 young women trusted me enough to readily and collectively tell the stories of extraordinary people who may not be here for the 70th anniversary of what happened in 1963."
Posted: September 22, 2023
Category: College News, Student News
Tagged as: Herbert Lowe, Kalisha Whitman, U.S. Civil Rights Trial 60th Anniversary, UFxFAMU1963, WUFT News, WUFT.org