Andrew Selepak Comments on the Constant Popularity of Disneyland
Andrew Selepak, University of Florida College of Journalism and Communications Media Production, Management, and Technology instructional assistant professor, is quoted in "The Scientific Reason Why You Can't Stop Going to Disneyland" published in the Los Angeles Times on Sept. 19.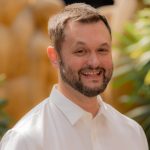 The article focuses on "travel craving" defining it as "a strong desire to modify ongoing cognitive experiences." Such yearnings are fed by a number of factors including smells which can trigger memories and positive emotions. Disney has unique methods for distributing smells, but also benefits from attendees taking and sharing photos.
According to Selepak, "Family vacations to Disney are not just photos of the family in mouse ears or after a fun ride, but the entire park. We take pictures of our food, the things we buy, the lines we wait in, and even the most minor of moments to post and share in social media."
Selepak believes Disney recognizes its influence and points to the effort it puts into setting up meet-and-greets with beloved characters, creating eye-popping backdrops and decor, and coming up with photo-worthy treats and souvenirs.
"How many other theme parks have you been to where the line to get a photo with a costumed character like Mickey Mouse is as long as some of the rides there?" said Selepak.
Posted: September 21, 2023
Category: Alumni News, College News
Tagged as: Andrew Selepak, Disneyland, Los Angeles Times, Media Production Management and Technology, Social Media, Travel Craving