UFCJC Students Explore UK Football Culture in Study Abroad Program
From May 11 to June 11, 2023, 22 University of Florida students, under the direction of Sports Journalism and Communication Program Director and Sports Lecturer Eric Esterline, participated in a study abroad program in the United Kingdom to learn about English football and the culture around it. This is a first-person account from one of the participating students.
By Rafael De Los Santos, Journalism Sports and Media senior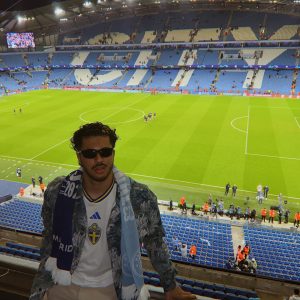 As a sports journalism student at the University of Florida College of Journalism and Communications, it is hard to imagine that my education could get any better outside of Weimer Hall. From ESPN Gainesville to the First at Five newscast and a chance to be published on WRUF, the program has everything an aspiring journalist could want.
But despite all the wins in orange and blue, upsets and national championships I'd had the privilege of covering, the most exciting opportunity caught my eye on the staircase bulletin board leading to the Weimer Hall basement. A flyer, one in a million, blared: "UF in the UK: Football, Sports and Culture." I couldn't believe it, a month-long excursion to the home of "football."
Not soccer. Football.
Up until that moment, I couldn't imagine ever working abroad, going to England, or attending a Champions League Semifinal.
Little did I know that three interest meetings and two overweight luggage stickers later, I'd be on a nine-hour flight to the United Kingdom to study at the birthplace of my favorite sport.
Upon arrival, 22 UF students claimed a small corner of London's Heathrow Airport. Over the next six hours, a small coffee shop draped in Gator gear served as the meeting point with Mark Robinson, our English liaison from study abroad organizer Learn International.
I didn't know it then, but Mark would embody the first lesson I learned in my time abroad: It's not the place, it's the people.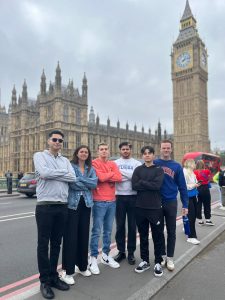 The coach ride to our accommodation in the city took us through the heart of London. I remember looking out through the bus window, nervous. These were new people; this was a new place. I was wondered how the bus driver made sense of the narrow, backward roads and what seemed like awkward stop light placements, when a glimpse of Wembley, England's most famous football stadium, made me feel at home. I knew then that this is where I was supposed to be.
This was a special place; these were special people.
For the next month, the Stay Club in Kentish Town would be an extension of Gainesville.
During our first weekend as Londoners, we became part of English footballing history as we attended the Women's FA Cup Final. Taking the tube to Wembley felt surreal, the closest thing to a tailgate at the Swamp I'd experienced. We were part of more than 77,000 fans that attended a sold-out Wembley to beat the previous record set for a women's domestic club fixture. It's a day I'll never forget.
Among the most valuable aspects of our trip were our meetings with sports industry professionals and our visits to local universities in the days that followed. University of East London and St. Mary's University opened the doors to what student journalism meant in the UK.
It was exciting to see the difference between our coverage of Northern Florida at UF compared to their coverage of London. We were much more used to the travelling associated with our coverage of state politics. For them, the underground subway system meant they could report from campus to parliament in a matter of minutes.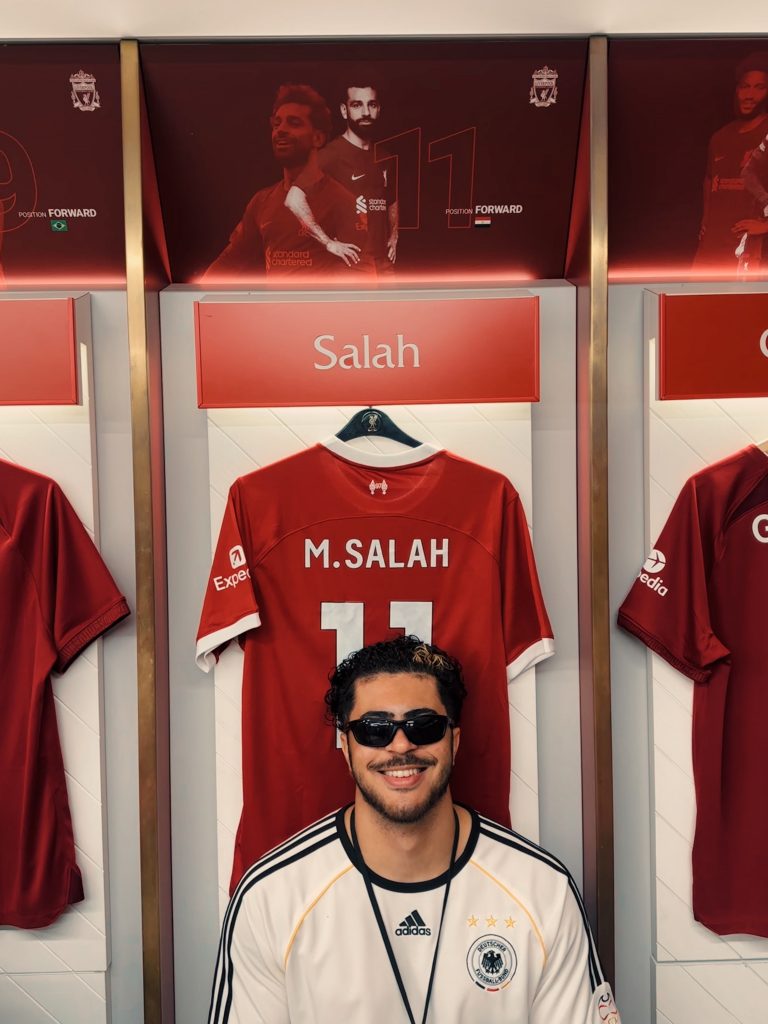 Talks with industry professionals like Anne-Marie Batson, a London multi-platform sports broadcaster, put a face on what journalistic rags to riches looked like. She inspired us as she took us through her journey from working communications for the London Underground to being a professional broadcaster. Batson showed us her version of the American dream in London and encouraged the room to dare to dream the same.
John Holmes, founder and network lead at Sports Media LGBT+, encouraged our group to advocate for diversity, equity and inclusion through sports journalism. Accomplished photographers like Shaun Botterill, a freelance photographer with Getty Images and the photographer behind the most liked photo on Instagram, and award-wining sports photographer and UFCJC alumnus Adrian Dennis, B.S. Journalism 1993 and 2016 Hall of Fame, accentuated a trip marked by the value of cultural exchange. Like us, they were once students knocking on the door of opportunity in the world of media. Today, they are industry leaders.
In the weeks that followed, we also had the privilege of touring some of England's storied stadiums. The Etihad, Twickenham, Lords, Anfield and, most thrilling, London Stadium and the London 2012 Olympic Village.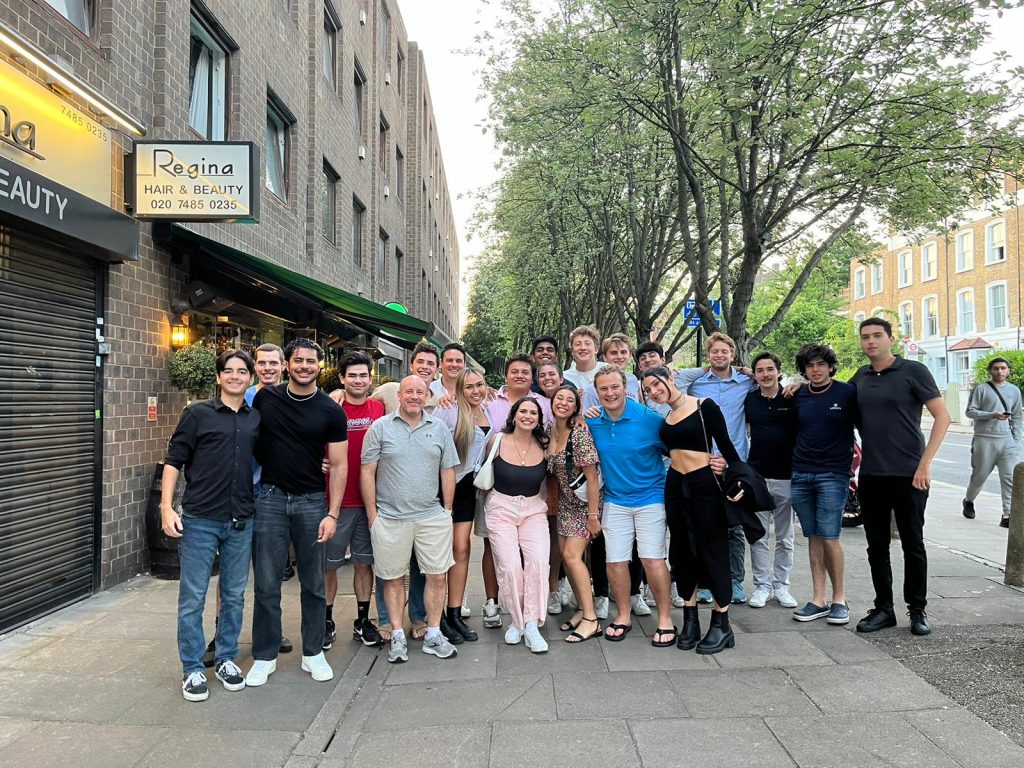 I believe that I speak for my fellow classmates that attended the trip when I say this was by far one of the most enriching experiences I've ever had as a student at UF. I was exposed to a new kind of journalism that embraced the new ideas and new people that made this trip so memorable.
A special thank you to UFCJC Sports Lecturer Eric Esterline, director of the College's Sports Journalism and Communication program, Mark Robinson and Chris Lawlor, CEO and co-founder of Learn International. Without them, 22 UF students might've met anywhere else in Gainesville, graduated never having shared a Lucozade or gone for a cheeky Nando's.
But if I had to go back in time and find that flyer, one in a million, I'd do it all again.
Posted: August 1, 2023
Category: College News, Profiles, Sports
Tagged as: Eric Esterline, Rafael De Los Santos, Study Abroad, UK Football