Gators Unidos Partners with The Agency to Develop and Promote a New Latino Merchandise Collection at the UF Bookstore
By Michelle Holder, B.S. Journalism 2022
When walking into the UF Bookstore at the Reitz Union, next to the Lululemon Gator apparel and the usual UF merchandise, a new collection stands out. From "Vamos Gators" t-shirts to the "Communidad" hat, the new Gators Unidos collection represents the University of Florida's diversity and rich Latino culture.
Gators Unidos is a non-profit organization whose mission is to foster educational, mentorship and sponsorship opportunities, ​connecting different generations of Latino Gators. About 21% of the UF student population identifies as Latino, and with more than 30,000 Latino alumni, the collection strives to provide UF students with merchandise that represents their community.
"It's that intersectionality of your identity as a Latino and your identity as a Gator and the pride that you have in both of those at the same time," said Dayana Falcon, a 2011 Advertising graduate of the UF College of Journalism and Communications (UFCJC) and founder of Gators Unidos. Falcon is currently Talent Mobility Manager at ESPN.
Falcon and Gator Unidos Director of Marketing for the Design and Public Relations Board Nicole Martinez, a 2014 Advertising graduate and founder of n/volve collective, wanted to partner with The Agency, a strategic communication agency at UFCJC that provides real-world experiences for students. They connected with Agency Accounts Director Mark Rottensteiner in February 2023 to select the students who would be involved in the production, marketing and analytics of the new line. After putting the team together in late March, the students sprinted to bring the line to life in the following weeks, before launch day in early May.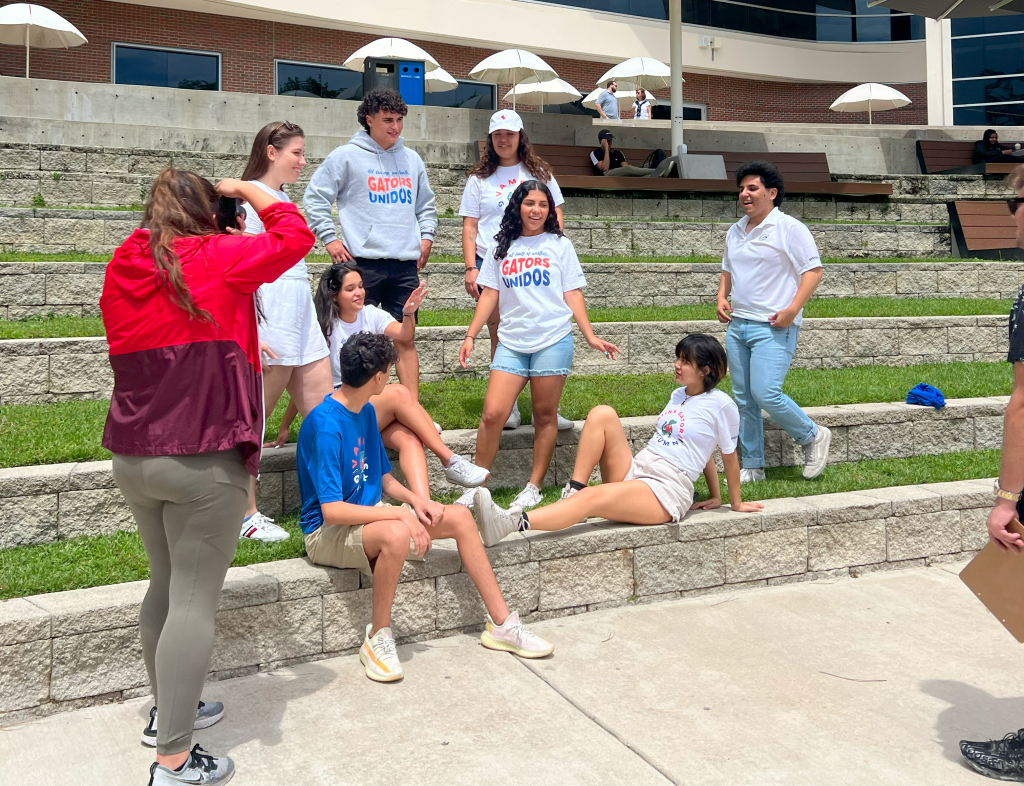 "I was super impressed because of the quality of the work that they put out, how organized they were, how prepared they were for every call that we had; they really were on top of it. Angela Roman [B.S. Telecommunication 2023], one of the current Latina students I worked with on designing the line, also blew me away with her creativity and ideas for the line" Martinez said.
"My family is from Cuba and my grandparents made sacrifices to bring my family over here," Martinez shared. "My grandmother and my mom are both actually models in the campaign, so it was a very full-circle moment, and I wouldn't be able to do it without my family."
With the collection's 25 pieces, Latino Gators and everyone in their community will be able to show off their Gator spirit.
Bob Blake, UF Bookstore Regional Manager, said in an announcement about the partnership, "The synergy between Gator Unidos, UF Bookstore, and the Gator Nation is exciting on so many levels. We are extremely proud to be offering Gator Unidos merchandise to our fan base at the University of Florida."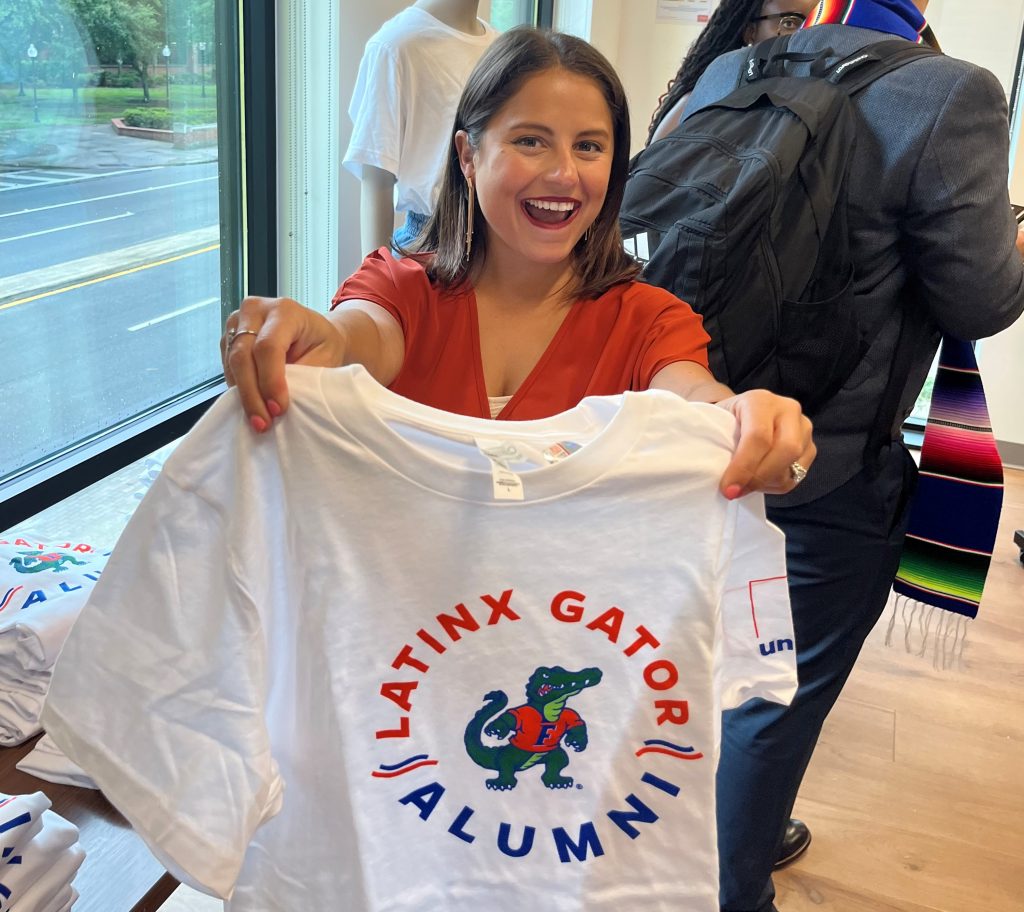 Falcon's favorite items from the launch are the generational products, such as the mamá and papá and abuelo and abuela shirts. "This is a tribute to the familia who made going to college possible," she said.
Martinez loves the Cafecito hat, a reminder of her childhood and Cuban coffee, and the Gators Unidos hoodie. The hoodie includes the words "Del Swamp, Pa'lante," which means "From the Swamp, Onward." Martinez said, "I just love the saying on the hoodie. I just love what that means, it's such a positive forward-thinking phrase that we use and I love seeing the students' reactions."
Gators Unidos Board Secretary of Innovation Danny Pimentel, B.S. Advertising 2011, Ph.D. 2020, helped create the Gators Unidos Snapchat Lens, where AR functionality allows you to try on the products, which has had more than 132,000 total plays at launch.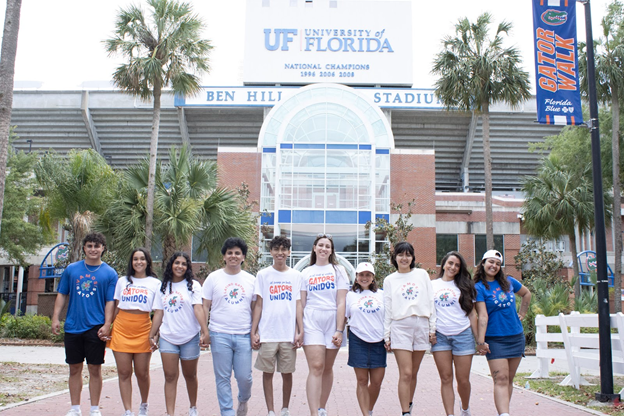 A portion of the proceeds from merchandise sales is allocated to the Gators Unidos Scholarship Fund to support current Latino Gators through financial aid and professional development and mentorship opportunities.
"I'm forever indebted to all these incredible students that took time to go above and beyond to help us launch this," Falcon shared.
Agency student Emily Usallan, B.S. Public Relations 2023, was the account supervisor for the Gators Unidos project.
Usallan joined The Agency in fall of 2022 after transferring from Miami Dade College, and as the account supervisor, she helped coordinate deadlines, manage teams and work with the clients. She also helped organize the photoshoot, from finding models to arranging photography locations.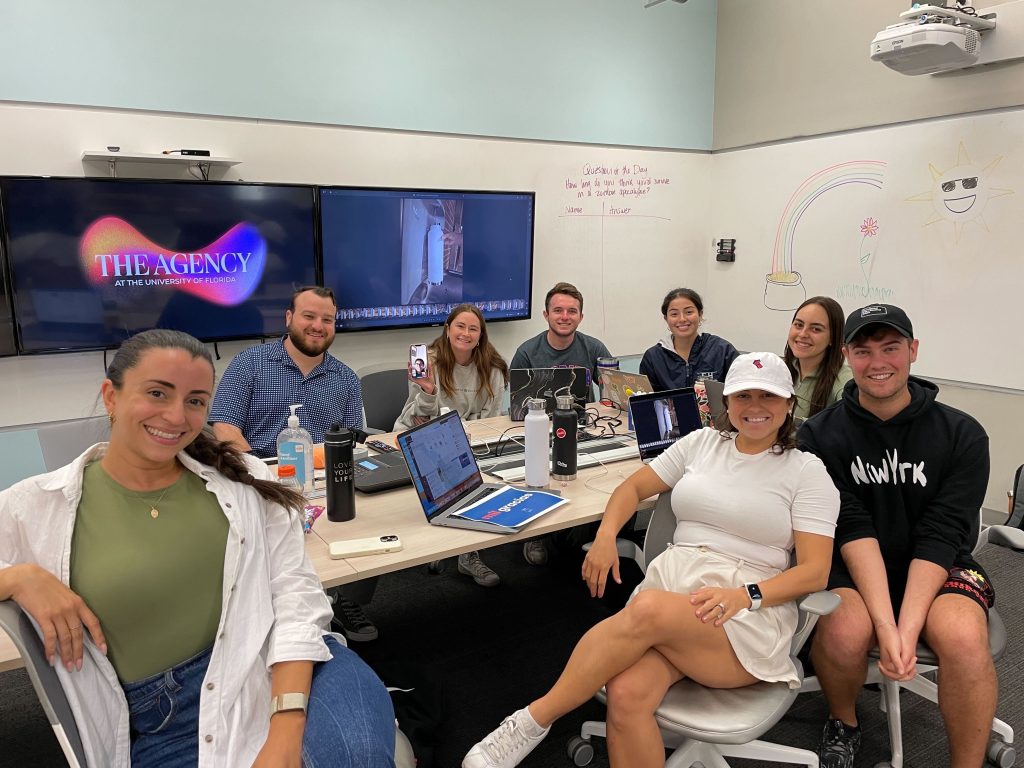 "We're getting work out there and we're able to put that on our portfolios and resumes," Usallan shared. "Gator Unidos is definitely the experience I'm going to be able to talk about in interviews for the future, for any other opportunities because it really helped me learn a lot."
As a Cuban American, the project especially resonated with Usallan. "It just made me feel really proud to be a Hispanic Gator," she said. "It was really fulfilling to work on a project that meant so much to me and the Latin and Hispanic community."
Looking forward, the Gators Unidos Board of Directors and The Agency hope to develop more items for the bookstore merchandise line and expand the line to more retail locations.
The Gators Unidos Collection is on sale now at the UF Bookstore and can be purchased online.
Posted: June 5, 2023
Category: Alumni Profiles, College News, Profiles
Tagged as: Danny Pimentel, Dayana Falcon, Gators Unidos, Nicole Martinez, The Agency