Advertising Alumna Gives Back to UF While Focusing on Equity in the Workplace
By Lenore Devore, B.S. Journalism 1984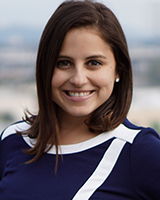 To Dayana Falcon, B.S. Advertising 2011, the University of Florida College of Journalism and Communications (UFCJC) is more than just a college. It's an institution that provided her with an education, a home base to engage and empower others, and a place to be involved in impacting the future.
For everything she gives back to the university and her community, she was named to the 2023 class of "40 Gators Under 40," which has honored outstanding young alumni since 2006.
"I'm so honored – it's just wild to me that a decade after graduating, and one year after starting Gators Unidos, I've been asked to join the UF Foundation National Board of Directors and receive this prestigious honor," Falcon said. "UF empowered my voice. I don't take this lightly. Now I have a new sense of responsibility I have to embody; I have to start thinking even bigger."
In her letter of support for Falcon's nomination, Leslie Pendleton, senior director of UF Advancement, wrote: "Dayana exemplifies what it means to use your talent for good. She's extremely extroverted and full of ideas that make an impact. Dayana is not afraid to roll up her sleeves and get to work, constantly juggling several responsibilities but all that she's completely committed to seeing through."
Falcon moved from Havana, Cuba to Hialeah, Florida, in 1989 with her parents, Carlos and Marlene. She also has two younger sisters, Dayleen and Direne. "My parents left everything they knew because they knew I wouldn't have a future in Cuba."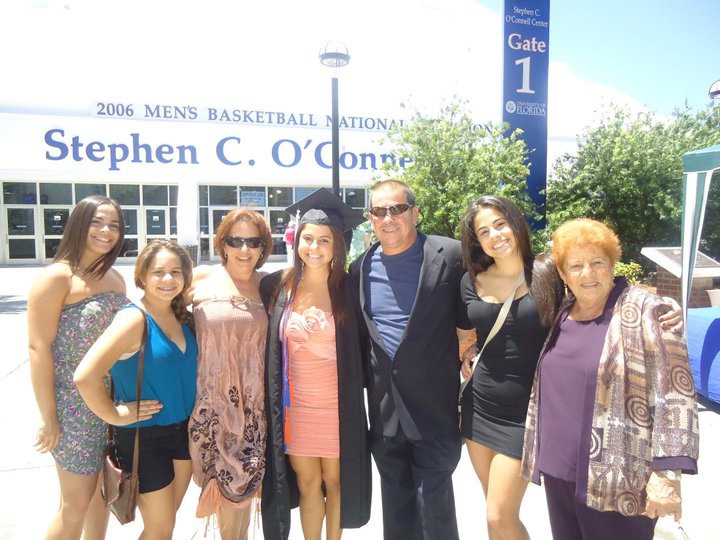 She was introduced to advertising when she worked at an ad agency during her senior year in high school and knew she would pursue a career in it. When she found out she was accepted to UFCJC, her first choice, she screamed joyfully.
"It was such a big deal. I'm the first out of 14 cousins to go to college. All that was familiar to me was Cuban culture. The majority of Hialeah, Florida, where I grow up is Latinos. I didn't know anything else; I was never exposed to it."
She received a full-ride to UF with the Machen Florida Opportunity Scholarship. "I fell in love with UF. They took a chance on me when no one else had."
Then she fell in love, literally, when she met her future husband UF alumnus Jason Koester.  They now live in Los Angeles with their "fur babies" Oliver and Bella.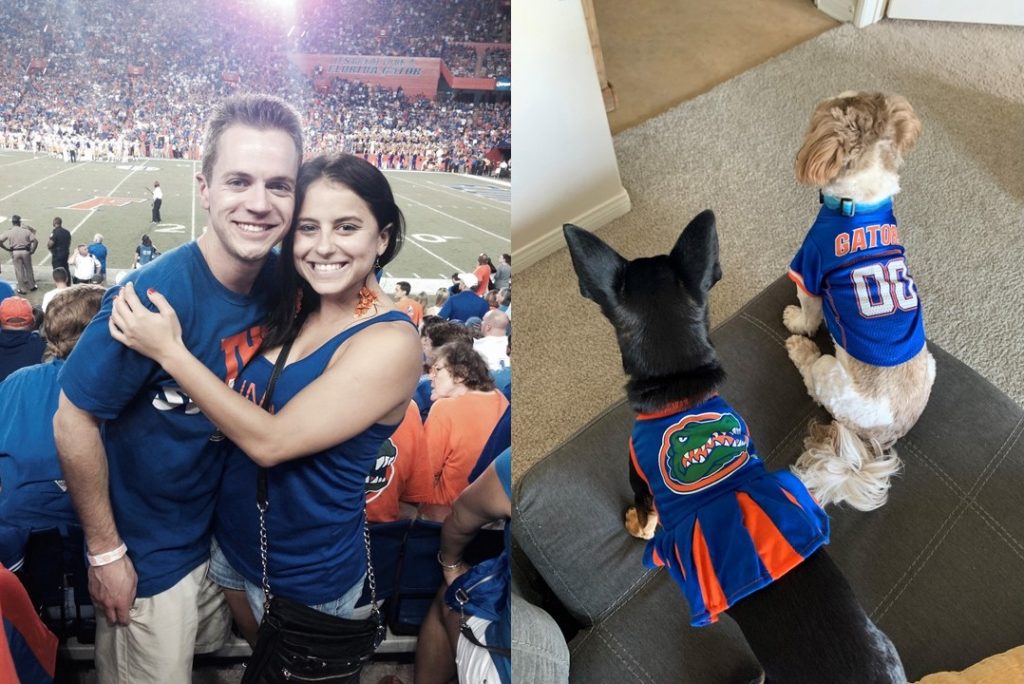 While attending UFCJC, Advertising Professor Michael Weigold, who taught "Principles of Advertising," and Dean Emeritus John Wright mentored her, coached her and cheered her on, she said.
Weigold "actually included me in one of his ad books a few years after I graduated," she said. "He helped me cement my commitment to advertising."
When she had to interview someone in the college for her first-year class, she walked into Wright's office without an appointment and asked to interview him. In return, he put her on his Dean's Student Council.
They told her to dream big and find a way to achieve her goals. "These two men took this Latina under their arms and empowered her to use her voice."
Her energy and hard work resulted in being named one of the American Advertising Federation's (AAF) Most Promising Minority Students in 2011 and was named to the AAF Honor Roll.
Her career has been a whirlwind of upward movement as she strives to create equal access to opportunities for others.
After college, she moved to Los Angeles. She started working in digital advertising at Initiative Media, an IPG Mediabrands agency, before relocating to New York to work in another one of their agencies, BPN Worldwide.
"In L.A., I went to an employee resource group event and won a lunch with the CEO. After that, I flew to New York and got the opportunity to meet various leaders in my company."
Later, they invited her to join their new agency's global team in New York as chief-of-staff. "We launched the agency across 25 markets and became an award-winning agency globally. I learned a lot about global business development and building an engaging company culture."
She used what she learned at BPN when she accepted a job at The Walt Disney Company, where she worked as a sales marketing manager for almost six years. "I was responsible for creating our sales go-to-market strategy. This ranged from internal and external thought leadership, strategic positioning of Disney advertising sales externally in the B2B industry, managing the content strategy and analytics for our social media presence, client entertaining at industry tentpole events and creating best-in-class sales collateral to set up our sales team for success."
Her side hustle was networking and cultivating a culture of career fulfillment and talent mobility – the opportunities to move between positions within the current company. "I noticed a lot of diverse women were leaving and I wanted to know why. I decided to do something about it. I started building talent mobility programming in employee resource groups and pioneering stretch project programs in my department. Our HR department said, 'We've been trying to do this for some time, and you've figured it out so quickly!'"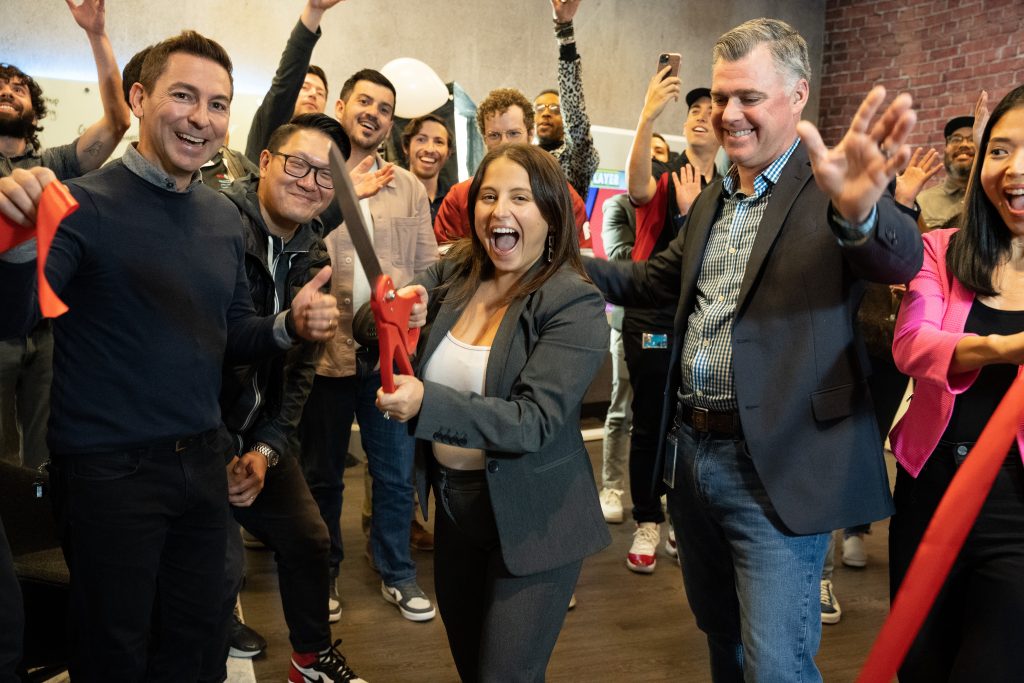 Disney-owned ESPN then recruited her to become its Talent Mobility manager in Human Resources Talent Management, a position she's held for two years. "ESPN is an innovative company. Equity is in my DNA, and so much of that is at ESPN. It's not some fake walk the walk and talk the talk on inclusion. I believe with how divided the world has been lately that sports can create unity and community. All of these elements trickle into the culture of our company."
In her role, she focuses on fostering a culture of career fulfillment by helping develop a proactive talent mobility mindset, leveraging emerging technology, and elevating the employee experience. Her team launched initiatives like the award-winning ESPN Career Center, All-Star Talent Showcase, Career Coaching and the Peer Mentoring Circles Program.
When she needed 100 hours of coaching experience, she started investing her energy in supporting minority women entrepreneurs and coaching them to ignite passion, vision and impact. She received certification as a career coach by the International Coaching Federation in March 2023.
She's very organized and uses technology to automate everything, which allows her to sleep nine hours a night – and give back UFCJC and to UF overall.
For UFCJC, she has previously served as a member of the Advertising Department Advisory Council and as a consultant to The Agency, the college's strategic communication firm offering real-world experiences for students.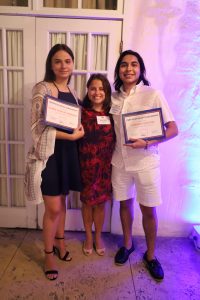 She joined the UF Foundation National Board of Directors in October 2022 and already is working on immersive ways to engage young alums and share talent management best practices for UF Foundation employees. She wants to "double down and engage this next generation."
Falcon is also the founder of Gators UNIDOS, a career-focused non-profit centered on educational, mentorship, and sponsorship opportunities ​connecting one generation of Latino University of Florida Gators, to the next.
"We have created an official professional development scholarship that sits under the UF AHA (Association of Hispanic Alumni) banner," Falcon said. An even bigger initiative is coming soon…stay tuned!"
Posted: April 3, 2023
Category: Alumni Profiles, College News, Profiles
Tagged as: Dayana Falcon, Forty Gators Under Forty