UFCJC Online Master's Alumnus Drives Change in U.S. Army Recruiting
By Claire Grunewald, Journalism senior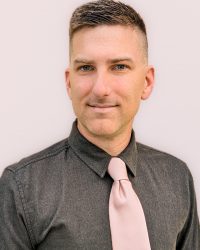 With his online master's degree from the University of Florida College of Journalism and Communications (UFCJC), Kevin Doe Crowsyn was able to spark change in U.S. Army recruiting.
Crowsyn started working in recruiting with the U.S. Army in 2009 when he discovered he had a passion for using social media in his work. After a few years, he decided to return to college to obtain his master's degree. He applied to one program, UFCJC's online Master of Arts in Mass Communication with a concentration in social media.
After graduating from the program in 2017, Crowsyn used what he learned to help transform the way the U.S. Army Recruiting Command uses social media and digital strategies to recruit. "Since I've graduated, the big focus has really been on development, virtual marketing and social media strategy," Crowsyn said.
Crowsyn worked in the 2nd Medical Recruiting Battalion and oversaw the Orlando Army Medical Recruiting Company as First Sergeant from 2020-2022. With his guidance, the company implemented in-depth social media management training to adapt to new challenges brought on by the COVID-19 pandemic.
This contributed to his medical recruiting company becoming the first in US Army history to be ranked number one for three years in a row. Crowsyn and his team were personally commended by the U.S. Army Surgeon General Lieutenant General R. Scott Dingle for their efforts.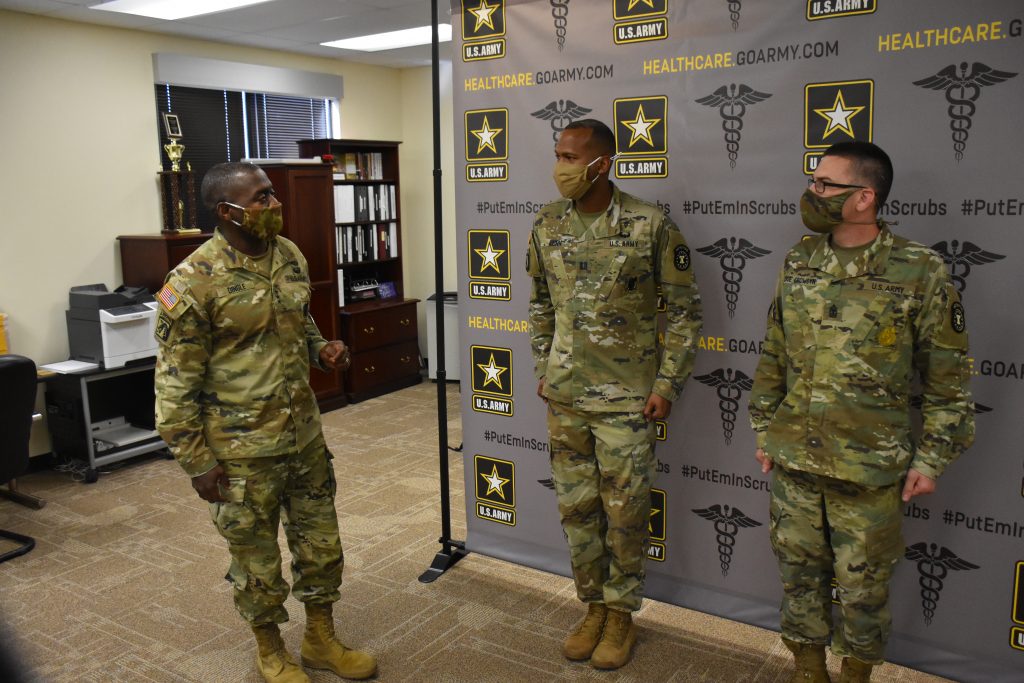 With the knowledge Crowsyn gained from implementing new digital strategies, he co-authored a new protocol for U.S. Army medical recruiting. It became the first and only U.S. Army recruiting doctrine that details digital strategy and incorporates social media management.
"I think a big part of my success is the credibility that I bring with a master's from UF," he said.
In July 2022, Crowsyn was selected to be the senior operations manager and virtual marketing strategist for the U.S. Army Tampa Recruiting Battalion, which covers five regions in Central Florida. With his battalion commander, Lieutenant Colonel Michael Norton, they piloted a new program to integrate digital strategies into recruiting.
"Together, we've all been able to move the entire organization on a large scale," Crowsyn said.
The pilot program was adopted by the 2nd Recruiting Brigade, which covers the Southeastern U.S. The unified plan provides minimum standards, training guidance, platform specific strategies, and goal setting for over 1,000 U.S. Army social media accounts. It's by far the biggest and most comprehensive program Crowsyn has been involved with. "This is huge for the U.S. Army because it's the first really detailed large-scale virtual strategy implementation," Crowsyn said.
"If I can create change in an organization that's this large and sometimes rigid, I think anyone out there can use that as a lesson that just because something seems unlikely, doesn't mean it's impossible," Crowsyn said.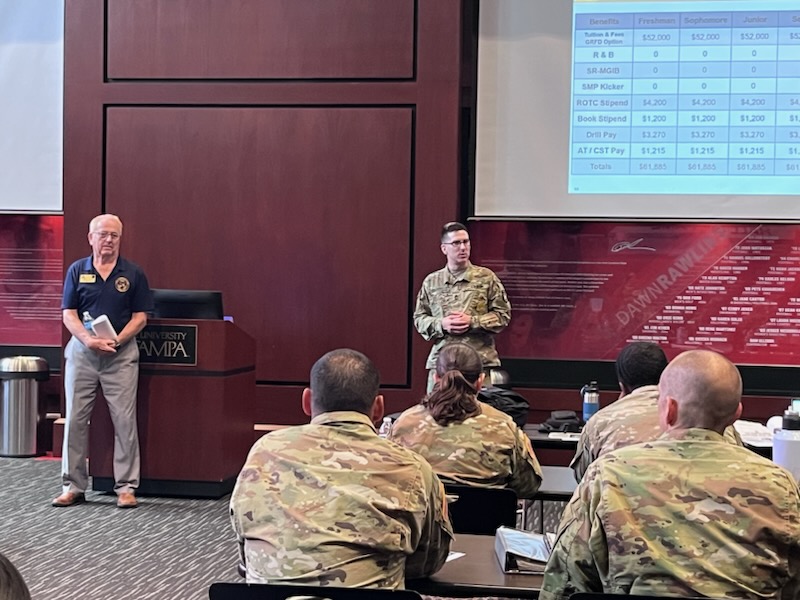 One of Crowsyn's proudest achievements was receiving a letter of recommendation from the commander of the U.S. Army Recruiting Command, Major General Johnny Davis.
In his recommendation, Davis wrote of Crowsyn, "He has been at the forefront of modernizing our virtual strategy and social media management techniques, utilizing the skills and knowledge he gained while a graduate student at the University of Florida."
For Crowsyn, his time spent at UF didn't end after he obtained his degree. He recently helped create the UF Association of Military Alumni to help grow the Gator military community. The group's goal is to spread the word that UF is a military friendly school and to highlight the amazing stories of UF alumni who serve, he said.
"For veterans transitioning out, I think they should definitely consider the University of Florida as a top choice for their bachelor's and master's degrees to make themselves more competitive when they transition out of the military."
Crowsyn also applies his experience at UF beyond his military career.
After taking inspiration from UFCJC Adjunct Advertising Professor Robert Hughes, Crowsyn is beginning a new career path in higher education.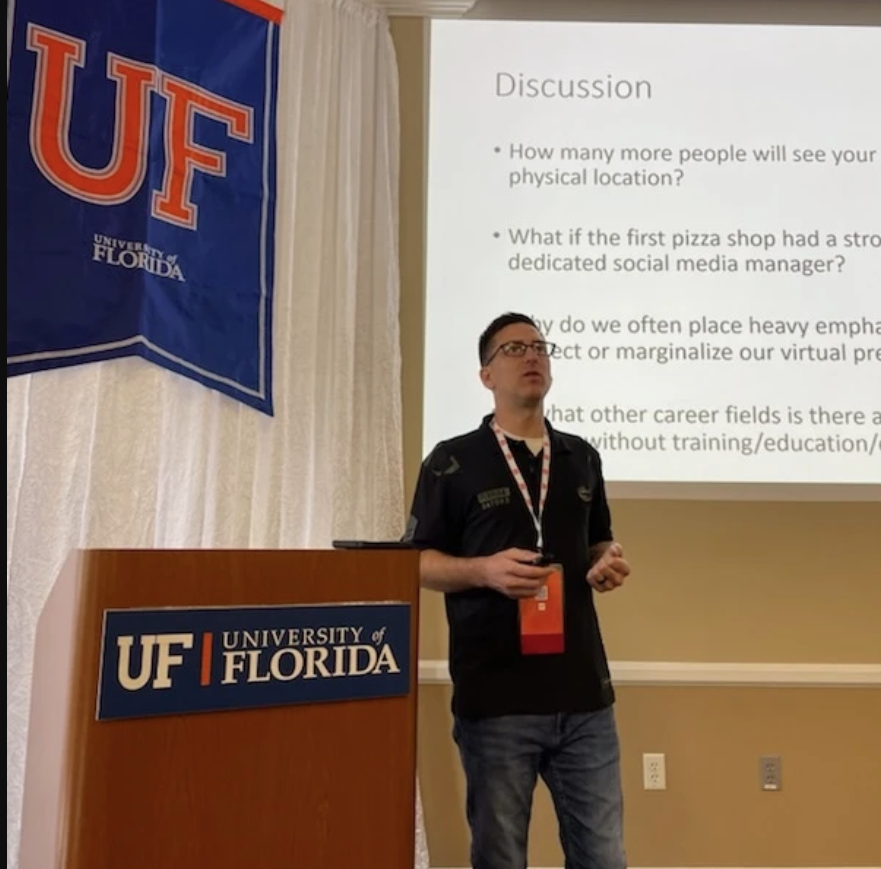 "I reach out to him regularly for his guidance and mentorship, and I wanted to follow in his footsteps," Crowsyn said. Hughes was an advertising professional for more than 40 years before becoming a teacher.
Crowsyn received an offer to teach in an integrated marketing and communications graduate program at West Virginia University and will begin there this fall.
"I love sharing my experience, and I love helping people," Crowsyn said.
"Before retiring from the US Army in 2026, Crowsyn plans to continue supporting modernization efforts for US Army Recruiting. In June 2023, he will be part of a working group to re-write doctrine that details virtual recruiting operations.
"With the University of Florida knowledge and mentorship, plus the support of leaders I've had throughout my career, we were able to make massive changes in one of the largest recruiting workforces in the world," Crowsyn said.
Posted: May 24, 2023
Category: Alumni Profiles, College News, Profiles
Tagged as: Kevin Doe Crowsyn, Online Masters, Social Media, U.S. Army