UFCJC PRSSA 2023 Bateman Competition Team Receives First Place in the National Contest
The University of Florida College of Journalism and Communications (UFCJC) Public Relations Student Society of America (PRSSA) Bateman Case Study Competition team has received first place in the 2023 national contest.
The UFCJC team, led by Public Relations Lecturer Christine Bucan, was comprised of Public Relations seniors Courtney Baer, Will Bullen, Adriana Dos Santos, Tammy Nguyen, and Hannah Schoff.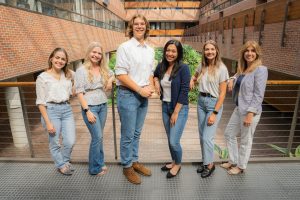 PRSSA partnered with the News Literacy Project for the 2023 competition. The non-partisan, non-profit education organization has built a national movement to advance the practice of news literacy through American society. Their goal is to inform, engage and empower individuals to ultimately create a stronger democracy.
PRSSA received 49 entries for the 2023 competition, and of these submissions 12 were awarded honorable mention and three were chosen as finalists. The three finalists presented their projects to a virtual panel of judges on May 4. UFCJC was first, followed by the University of Colorado Boulder – The Daily Herald and Louisiana State University receiving second and third place, respectively.
Previously, UFCJC received first place in both 2011 and 2014 and second place in 2012, 2015, 2020 and 2022.
Earlier this year, the UFCJC Public Relations Department was named the 2023 PRWeek Outstanding Education Program.
Posted: May 4, 2023
Category: College News, Student News
Tagged as: 2023 Bateman Competition, Adriana Dos Santos, Bateman, Christine Bucan, Courtney Baer, Hanna Schoff, PRSSA, Tammy Nguyen, Will Bullen