Roxane Coche Named Media Production, Management, and Technology Department Interim Chair
Roxane Coche, University of Florida College of Journalism and Communications (UFCJC) Media Production, Management, and Technology (MPMT) associate chair and assistant professor, has been named interim MPMT department chair beginning July 1, 2023.
As MPMT associate chair, she completed the department's 2021-2022 assessment report for the Southern Association of Colleges and Schools and began the process of reconstituting the department's advisory council with alumni whose professional roles align with the department's current programs. Coche also served as the associate director of the Sports Journalism and Communication program, where she helped update the Sports@CJC curriculum, including developing two sports-related study abroad programs this year.
Her commitment to internationalization has re-energized the UFCJC International Committee and elevated it to a faculty standing committee. She has twice won the UFCJC International Educator of the Year Award, and last year served as the communication chair of the Broadcast Education Association (BEA) International Division.
Since joining CJC, she has authored or co-authored 17 peer-reviewed articles, 32 conference presentations and one book chapter. In 2019, she won a Rising Star Award from UF and the UFCJC Faculty Service Award for 2022-23.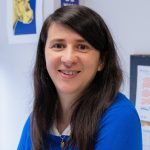 Coche was named a 2022 Kopenhaver Center Fellow by the Lillian Lodge Kopenhaver Center for the Advancement of Women in Communication at Florida International University. She collaborated with Eric Esterline, UFCJC director of Sports Journalism and Communications and senior lecturer in Sports Media and Communication, to create an online experience for students from UF and the University of Brighton in England. The project received second place in the Association for Education in Journalism and Mass Communication International Communication Division Teaching and received the "highly commended" designation for Innovation of the Year in the 2020 National Council for the Training of Journalists Awards for Excellence competition.
Coche won a BEA Research Grant in 2022 and the association's New Faculty Research Grant in 2020.  Her 2022 grant has been applied to her research project on evaluating the legacy of the 1924 Paris Summer Olympics, for which she also received a research grant from the Académie Nationale Olympique Française.
Coche has a Ph.D. from the University of North Carolina, a Master's in English and American Civilization from Universite Paris III – Sorbonne Nouvelle, a Master's in Bilingual Journalism (French and English) Universite Paris III – Sorbonne Nouvelle and a B.A. in English from Institut d'anglais de Paris Charles V – Université Paris VII.
Posted: May 2, 2023
Category: College News
Tagged as: Media Production Management and Technology, Roxane Coche