Benjamin Johnson Named UFCJC STEM Translational Communication Center Interim Director
The University of Florida College of Journalism and Communications (UFCJC) today announced that Advertising Associate Professor Benjamin Johnson has been named the interim director of the College's STEM Translational Communication Center (STCC), effective immediately.
Johnson's research is focused on why and how people select and share messages in new media settings, especially as it relates to psychological processes such as impression management, social comparison and self-regulation.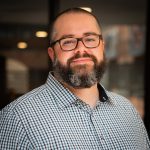 "Dr. Johnson is a highly respected scholar, and we are fortunate that he has agreed to lead the Center's expansion beyond health communication into additional areas of STEM, including emerging technologies, computer science and climate science," said UFCJC Dean Hub Brown. "We are planning to build a portfolio that enhances trust in science, explores effective communication in a broader range of STEM disciplines, communicates innovation, and works with STEM scholars focused on the communication of their research."
Under Johnson's leadership, the STEM Center will develop new projects and programs that will attract external funding and address urgent issues, open up the Center and its activities to more faculty, staff and students, collaborate with other centers and priority areas at UF, including the University's AI Initiative, and promote and advance UF's strong research activity in health communication, climate communication and other STEM-related areas.
"The STCC is a unique resource and meeting place for UF faculty who want to improve communication about science, technology and health. I'm looking forward to building upon the big accomplishments of the Center and bringing in new collaborators and new ideas to further expand our impact," Johnson said.
Prior to joining UFCJC in 2018, Johnson was an assistant professor of Communication Science at Vrije Universiteit Amsterdam in the Netherlands. Since joining UFCJC, Johnson has led four doctoral committees and nine master's committees, plus extensive research mentoring of both graduate and undergraduate students.
He is a co-editor at the journal Media Psychology and a former division head for Communication Theory and Methodology at the Association for Education in Journalism and Mass Communication. Johnson is the author of more than 45 peer-reviewed publications in high-profile communication journals such as Journal of Communication, Communication Research, Human Communication Research, Media Psychology and Journal of Computer-Mediated Communication. He has also published eight book chapters and has authored more than 65 conference papers and presentations.
From 2007 to 2010, he was the director of the Telecommunications Center at Albany State University, managing the university's television channel and radio station as well as teaching radio courses.
Benjamin earned his Ph.D. from the School of Communication at The Ohio State University, M.A. from Michigan State University and B.S. from the University of Indianapolis.
Posted: April 17, 2023
Category: College News, STEM Center News
Tagged as: Benjamin Johnson, STEM Translational Communication Center