Sophomore Gains Valuable Experience in NBA in Paris Study Abroad
By Chloe Stein, Media Production, Management, and Technology Sophomore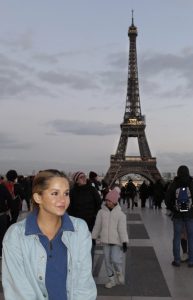 In January, I was lucky enough to be chosen as one of 24 students to represent the University of Florida College of Journalism and Communications in covering the second-ever NBA game hosted in Paris. This was a regular-season game on Jan. 19 between the Chicago Bulls and the Detroit Pistons, and it marked the NBA's most recent return to France since the emergence of COVID-19.
Our assignment was laid out for us prior to the trip: we were to work in pairs on stories that encapsulated something unique about the NBA's venture to Paris. Some students chose to conduct interviews with up-and-coming French basketball players. Others focused on the history of the NBA's efforts to globalize, and how it has led the NBA to the Paris event. My partner  Lilly Randolph, a Journalism/Sports Media senior, and I secured an interview with the Digital Content Manager for the Chicago Bulls, Nikko Tan, who happened to be a 2016 graduate of CJC's Telecommunication program. We prepped for the projects before ever arriving in Paris. One requirement of the program was to publish our stories,  so there was a sense of urgency to quickly create an impressive package, either through writing, filming or photographing.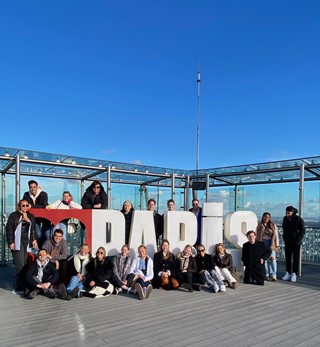 This once-in-a lifetime experience was made all the more valuable by bonding with 23 other participants that I had never met. By the end of week-long excursion, we truly became a 24-person family.
Of course, we could not spend a week in the city of love and lights without immersing ourselves in French culture and tourism. Though we traveled to Paris with an academic agenda, we were also able to squeeze in time to spend on amazing tours, sights, events, and people.
On our first day in Paris, we ventured on the metro to the Montparnasse Tower, which is the second-tallest skyscraper in France. This 60-floor beast of a building offered a breathtaking view from a panoramic observation deck on its roof. The bitterly cold air was completely forgotten once I realized that I could view the Eiffel Tower, Arc de Triomphe, and city of Paris all in one skyscape. It was not only a fantastic view, but also served as a great social ice-breaker for our group.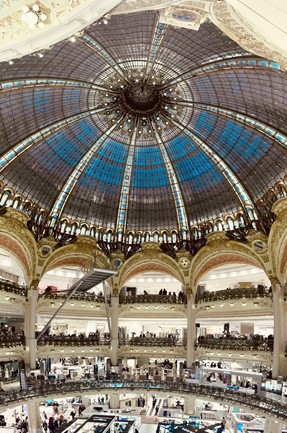 During our scheduled free time on this day, we roamed Galerie Lafayette, a world-famous shopping center located on the Boulevard Haussmann. We broke up into smaller groups and perused the shopping district, where I was astounded by the quantity of designer kiosks and shops. The societal norm in Paris is to regularly dress more formally, with very few locals wearing athleisure or comfortable clothing. This was a detail that us Americans, particularly college students, are definitely not accustomed to. Because Paris was in the midst of a city-wide shopping sale that week, the area was crowded with well-dressed individuals, many grasping upwards of four shopping bags each. For those of us who love to people-watch, this was the place to do it.
That night we had a group welcome dinner, where Media Production, Management, and Technology Department Associate Chair and Assistant Professor Roxane Coche (one of our two program directors along with Journalism Department Chair Ted Spiker) had organized an adventurous four-course dinner. Professor Coche is originally from Paris, so she knows and loves much of the traditional French cuisine. Unfortunately, most of our group could not say the same. Many of us were frightened by the multi-color complexion of the meaty substance we were given for the first course. We sat together at the long table, laughed, shared conversations, and subtly avoided eating the food in front of us. In the future, I think many of us will opt to stick to the baguettes and crepes.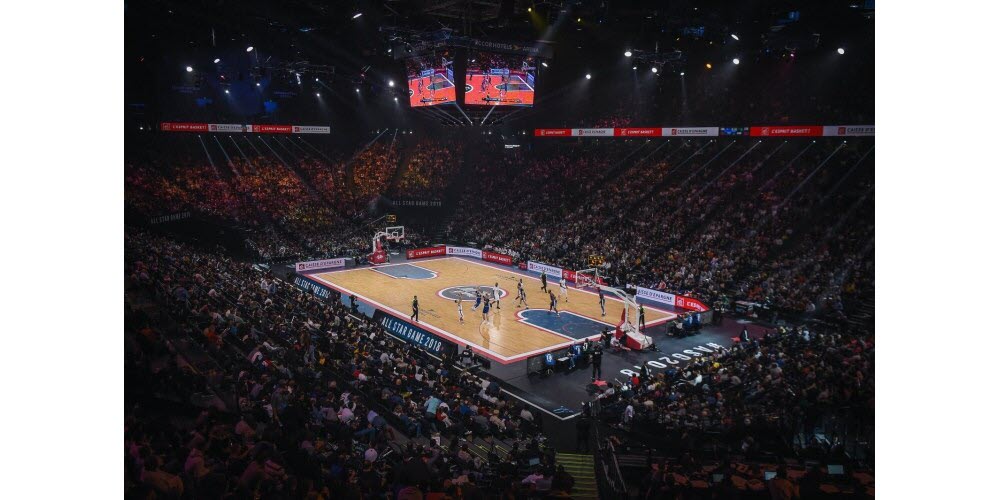 The next day was the long-awaited NBA game. Tip-off was at 9 p.m. Paris-time at Accor Arena, so we fortunately had much of the day to prepare our stories. Once Accor Arena opened for the night, the streets became completely congested, with people from all over the world making their ways towards the historic event. About half of our program purchased tickets to watch the game from inside the arena. I stood outside the crowded stadium with a small group of fellow students and approached anyone who seemed like they had a story to tell.
Realizing that we were in the midst of Men's Fashion Week in Paris, Lilly and I decided it would be an eye-catching extracurricular project to photograph game-goers who were dressed to the nines. We arranged short photoshoots with many fans and asked them where they came from and what inspired their game-day outfits. Other students in our program surveyed the crowd, found individuals to interview on film, and asked them about their interests in the NBA. It was invigorating to be a journalist in such a huge crowd of people: to be someone not necessarily there to attend the game, but to document facets of it. This was the night that put everything into perspective for us: the exciting buzz of the arena reinforced what we had traveled all that way for.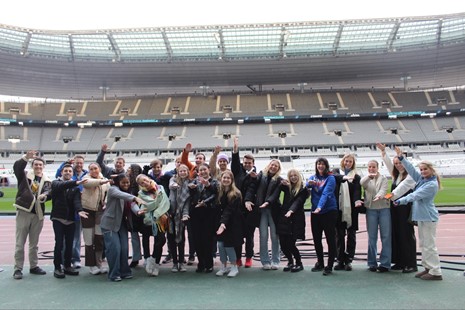 On Jan. 20, Professors Coche and Spiker took our program on a private tour of the Stade de France, which is the stadium of the French National Rugby and Soccer Teams. Though I do not normally consider myself a rugby or soccer fan, I had to admit this stadium was nothing short of a masterpiece. Our tour guide educated us on the significance of its build, noting details about the sheer magnitude of its construction — each scoreboard screen is larger than the size of a tennis court. We were also lucky enough to visit the team locker and warmup rooms, the President/Prime Minister's box, and the jail cells in the basement of the stadium for unruly fans.
A seven-day trip is difficult to concisely summarize. It feels so much longer when it is as dense an experience as this one. I am confident that I have concluded this program as a more experienced journalist, and gained a profound appreciation for my Gator community.
Professors Coche and Spiker perfectly curated a team of individuals for this trip, where every student contributed impressive ideas and celebrated camaraderie. I am so proud to be at a college that takes the initiative to create programs like the NBA in Paris: programs that allow us access to iconic moments in history. Though submitting an application like the one required for this trip was intimidating, it was a challenge that has only yielded me such positive personal growth. I strongly urge anyone eligible to apply for an excursion like this one, as I can promise you will not regret it.
Posted: February 6, 2023
Category: College News, Profiles, Sports
Tagged as: Chloe Stein, NBA in Paris, Roxane Coche, Study Abroad, Ted Spiker