Rebecca Frazer Joins UFCJC as a Public Relations Assistant Professor in Fall 2023
The University of Florida College of Journalism and Communications today announced that Rebecca Frazer will be joining the College in fall 2023 as assistant professor in the Department of Public Relations.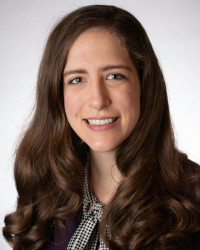 Frazer is currently a doctoral candidate at The Ohio State University (OSU) School of Communication. Her dissertation is titled "Measuring and Predicting Character Depth in Media Narratives: Testing Implications for Moral Evaluations and Judgments." The research applies a media psychological approach to examine how variance in the complexity of story characters impacts perceptions of characters' humanness and the moral judgments of their actions.
Beyond her dissertation, Frazer's research investigates the effects of story engagement across media contexts — including entertainment media, news stories, and social media narratives — examining how perceptions of story characters can influence real-world moral judgments and public policy support. She also conducts research on the moral psychology underlying terrorist propaganda, aiming to inform effective counter-terrorism messages.
Frazer earned her Master of Arts in Communication and her Master of Public Administration at OSU. She received her Bachelor of Arts in Communication and Political Science at Asbury University in Wilmore, Kentucky.
She has authored or co-authored eight peer-reviewed articles, which have appeared in academic journals including the Journal of Communication, Journal of Public Policy & Marketing, Media Psychology and Mass Communication & Society. She has also authored or co-authored 21 peer-reviewed conference research papers.
At Ohio State, Frazer has taught Strategic Communication Principles, Writing for Strategic Communication, Communication Industry Research Methods Laboratory, Media and Terrorism, and Persuasive Communication.
Her honors include Top Paper Award in the National Communication Association Mass Communication Division in 2022 and 2020, 2022 Graduate Associate Teaching Award at OSU, and Dean's Distinguished Fellowship at OSU in 2017.
Posted: January 9, 2023
Category: College News
Tagged as: Public Relations, Rebecca Frazer