Juliana Fernandes to Participate in a Webinar of Greenwashing
Juliana Fernandes, University of Florida College of Journalism and Communications Advertising assistant professor, will be one of four faculty members participating in "Empowering Consumers: What is Greenwashing and How to Identify It," a webinar sponsored by the Florida International University College of Communication, Architecture + The Arts on Nov. 14 at 10 a.m.
Greenwashing refers to brands making unsubstantiated claims to deceive consumers into believing that a company's products are environmentally friendly or have a greater positive environmental impact than is true.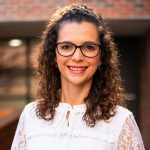 Fernandes, host Sigal Segev, Susannah Enkema and Kristopher Hesson will discuss whether messaging placed on green products is intentionally or unintentionally misleading target audiences. They will focus on deceptive messaging and why individuals should be able to identify it so they can make properly informed decisions. The event is free and open to the public.
Posted: November 9, 2022
Category: Alumni News, College News
Tagged as: Juliana Fernandes