Annie Neimand to Serve on Panel Discussing How Storytelling Can Change the Narrative on Economic Justice
Annie Neimand, University of Florida College of Journalism and Communications Center for Public Interest Communications research director, will be part of a three-person panel focusing on "Remaking the Economy: Building Narrative Power for Economic Justice." The 90-minute Nonprofit Quarterly (NPQ) webinar will be on Sept. 29 at 2 p.m.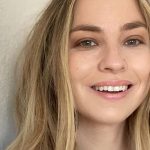 The NPQ panel featuring Neimand, Trina Stout and Michael Xian-Pei Huang will explore how nonprofits and philanthropy are currently reinforcing damaging narratives about poverty and wealth and how they can do better. Participants will learn actionable strategies for shifting the narrative on poverty and wealth to one that is intersectional, builds power and holds systems accountable.
Shanelle Matthews, communications director for the Movement for Black Lives, founder of the Radical Communicators Network and on the Resistance Narratives faculty at The New School, will serve as moderator.
Registration is available here.
Posted: September 15, 2022
Category: Center for Public Interest Communications, College News
Tagged as: Annie Neimand, Center for Public Interest Communications