Two UFCJC Alumnae Honored at Inaugural Name Image Likeness Summit
Two Gator gymnasts, University of Florida College of Journalism and Communications (UFCJC) Professional Master's student Leah Clapper, B.S. Advertising 2021, and Megan Skaggs, B.S. Advertising 2020, were honored at the inaugural INFLCR Name Image Likeness (NIL) Summit at the Chick-fil-A College Football Hall of Fame on June 14.
Clapper is the recipient of the Scholar-Athlete of the Year award, honoring the student-athlete who achieved exceptional results in the classroom and in their respective sport while maximizing their NIL for the greater good. She has earned both academic and athletic All-America honors while at UF.
Earlier this year, Clapper was also named 2021 SEC Scholar-Athlete of the Year.
Clapper anticipated the start of NIL and worked to develop her brand. She launched the first-ever gymnastics board game Balance Palace. Her ball challenge video went viral and she also hosts the podcast Zest and Progress. Her capstone project, NIL Island, is a recently launched site to provide student-athletes a place to discuss NIL experiences and struggles.
Skaggs received the Athlete Advocate of the Year. In her final season with the Gators, she joined teammate Trinity Thomas as the only competitors at the 2022 NCAA Championships to claim the maximum of five All-America honors. She paired performance with purpose and used her go-to competition hairstyle, double braids and two tiny bows, as the identity for her charitable program, Skaggs' Tiny Bow Project.
The College previously featured Skaggs about her journey to becoming a gymnastic champion.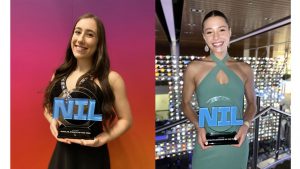 Clapper and Skaggs joined Gator swimmer Elise Bauer, gymnast Trinity Thomas and football players Kamari Wilson and Derek Wingo at the banquet kicking off the NIL Summit.
The Student Athlete NIL (SANIL) is a full-service agency of record dedicated to helping brands, universities, and student-athletes navigate the new era of Name, Image and Likeness.
Posted: June 15, 2022
Category: Alumni News, College News
Tagged as: Leah Clapper, Megan Skaggs