CJC Senior Megan Skaggs Balances Gymnastics and Academics for Championship Results
By Madison Hindo, Public Relations 2020
Advertising senior Megan Skaggs discovered her love of gymnastics in the middle of the night while recovering from the flu when she was three years old. There were few shows on television at the hour, so her mother settled on Cirque du Soleil. Skaggs was hooked, spending the night asking her mom what it was and telling her she needed to learn how to do gymnastics, even though she could barely pronounce the word "gymnastics."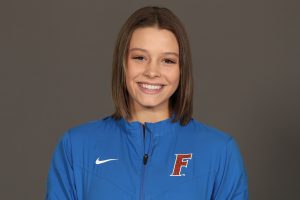 When her parents told her she was too young, she took to doing flips on the couch and decided to teach herself. Christmas rolled around, and she devised a plan: ask Santa for gymnastic lessons. It worked, and she was enrolled in lessons by the time she was four.
"I immediately fell in love," she said. "I took off with it and never looked back."
Around the age of six, her coaches pulled her parents aside to tell them Skaggs had real potential. When they asked her if she was in it for fun or if she wanted to pursue elite gymnastics, she decided that she was fully committed to the sport.
That commitment meant homeschooling, an intense training schedule, and frequently traveling to competitions.
She set her sights on making the U.S. National Team and spent years working to meet that goal. It involved monthly trips to the national training center in Texas and the persistence to keep going after she narrowly missed qualifying on multiple occasions. In 2015, at the age of 16, she was finally named to the team.
Despite competing in places like Jesolo, Italy and Toronto as an elite gymnast, Skaggs' favorite place to compete is the O'Connell Center at the University of Florida.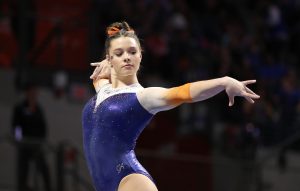 In 2016, she made the decision to retire from elite gymnastics and pursue collegiate gymnastics instead. College gymnastics had always been part of her plan, and she had grown up in Marietta, Georgia, planning to attend the University of Georgia. But after visiting UF, where both of her parents attended, she decided to head south the Sunshine State.
"The amount of support here is incredible, and I could tell that from my visit," Skaggs said. "It felt like the right fit for me because Florida is a big school but it feels small, especially in the student athlete community."
A week after her visit, she committed to UF.
"It's crazy to think there are girls looking up to me, because I still feel like a young soul in this sport," she said. "It's really humbling to be here now when I was one of those little girls looking up and aspiring to be here and competing at a high level."
Coming to Florida provided her with new challenges, such as learning to compete on a team rather than as an individual and adapting to a classroom environment after years of homeschooling.
"Since coming to college I've definitely found a love for this sport, more so than I ever did competing at the elite level," Skaggs said. "I'm not doing it for me anymore. I'm doing it for my team."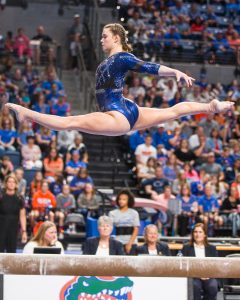 And that love translated into success. In 2019, she was named All SEC, was the SEC balance beam co-champion, received All-American second team honors from the National Association of Collegiate Gymnastics Coaches/Women, was named to the SEC Academic Honor Roll and received the team's Scholar-Athlete award.
One of Skaggs' main adjustments coming to UF was getting used to a public education environment after years of homeschooling. This meant she had to learn skills such as collaboration, note taking, and test taking in a classroom setting. Despite the challenges, she loves going to her classes and is pursuing an advertising degree.
Advertising wasn't something she had ever considered before coming to UF, but she started looking into the College of Journalism and Communications after one of her teammates recommended it to her. After meeting with an advisor who explained the different majors, she realized advertising was the perfect fit for her.
"I like being creative, but I also feel like I have a business mindset," she said. She considered advertising to be the perfect blend of her two interests because it allows her to exercise her creativity, while also learning about the business side of the industry.
In addition to athletics and her classes, Skaggs serves on the executive board of the Student Athlete Advisory Committee and has had two internships. She's interned with Cleaning Genie and The Selling Factory, opportunities that taught her more about outreach, marketing and business.
Skaggs will graduate in fall 2020, finishing her undergraduate degree in three years. She plans to spend another year at UF after graduation to pursue a master's degree and continue to compete on the gymnastics team.
Following graduation, she hopes to stay involved with athletics. After being a student athlete herself, she's found a passion for helping other student athletes develop and wants a career that allows her to be creative and invest in them.
"Being a student athlete has helped me grow as an athlete and as a person," Skaggs said. "Following this, I just know I'm going to be equipped with so many experiences and skills that I couldn't have learned anywhere else."
Posted: November 4, 2019
Category: Profiles, Sports, Student Profiles
Tagged as: Gymnastics, Megan Skaggs