Roxane Coche Receives BEA Research Grant for 1924 Paris Summer Olympics Study
Roxane Coche, University of Florida College of Journalism and Communications Media Production, Management, and Technology (MPMT) associate chair and assistant professor, was one of four researchers awarded a $2,400 Broadcast Education Association (BEA) Research Grant. The grant money will be applied to her research project on evaluating the legacy of the 1924 Parris Summer Olympics.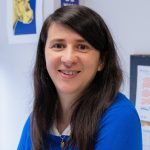 Coche initially received a 3,000€ research grant from the Académie Nationale Olympique Française (ANOF), through its Olympic Studies Center, for her study. The grant is the result of a partnership between the ANOF and Paris City Hall.
Coche's research will aim to discover the measures taken by the organizers of the 1924 Olympics and the French government to create an event that marked its time, reshaped the concept of spectacle, and left an important legacy. She will also explore how the organizers created a business model driven by new technology that helped the Olympic movement and media thrive over the past century.
In 2020, Coche received a BEA New Faculty Research Grant to purse research on social issues in the sports media industry.
Posted: May 6, 2022
Category: College News
Tagged as: BEA Research Grant, Roxane Coche