Roxane Coche Receives 2020 BEA New Faculty Research Grant
Roxane Coche, University of Florida College of Journalism and Communications Sports Journalism and Communication associate director and Telecommunication assistant professor, is the recipient of the 2020 Broadcast Education Association (BEA) New Faculty Research Grant.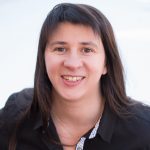 The BEA's grant seeks to promote scholarship through achievement by untenured broadcast and electronic media faculty. Coche will receive $1,000 to pursue her research interests that revolve around social issues, often in the sports media industry.
The initial funding for this grant was provided by Rebecca Hayden, winner of BEA's Distinguished Education Service Award in 1993, and long-time editor/publisher of broadcast and media books at Wadsworth Publishing Co. The grant honors the memory of Sydney W. Head (1913-1991) and Harrison B. Summers (1894-1980), two key pioneers in broadcast education.
Posted: November 12, 2020
Category: College News
Tagged as: BEA, Roxane Coche