Myiah Hutchens Named Public Relations Department Interim Chair
Myiah Hutchens, University of Florida College of Journalism and Communications (UFCJC) Public Relations Associate Professor, has been named Interim Chair of the Public Relations Department. She has served as Associate Chair since September 2021.
Hutchens replaces former Department Chair Marcia DiStaso who was named UFCJC Associate Dean for Research.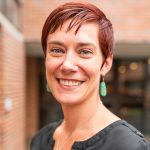 Hutchens joined the College in 2018 as an assistant professor and was promoted to associate professor in August 2021. Previously, she had been an assistant professor at Washington State University, University of Arizona, and Texas Tech.
Since 2018, she has authored or co-authored 18 journal publications, presented 21 papers, co-authored the book Deliberative Public Engagement with Science: An Empirical Investigation, and wrote a book chapter in Reflections on Interpersonal Communication Research. She was named an inaugural Trust Scholar for the Consortium on Trust in Media and Technology in 2020, and in 2021 was a co-investigator on a National Millennial/GenZ Community grant to examine the role of AI in PR.
During the past academic year, she has served on the College's Strategic Planning Task Force, while also serving on two search committees, serving as the graduate coordinator for the Research and Theory master's program, and serving on the Tenure and Promotion, Graduate, and Salary Equity committees for the College. In 2020, she was part of a team that helped shape UF's value statements.
Posted: May 4, 2022
Category: College News
Tagged as: Myiah Hutchens