Yewande O. Addie Inducted Into Prestigious UF Graduate Honor Society
Yewande O. Addie, a University of Florida College of Journalism and Communications doctoral student, is one of four doctoral students inducted into the 2022 class of the UF Graduate School Edward Alexander Bouchet Graduate Honor Society.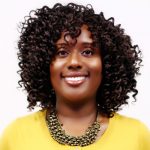 The Bouchet Society, named for Edward Alexander Bouchet, the first African American Ph.D. recipient in the U.S., recognizes outstanding scholarly achievement and promotes diversity and excellence in doctoral education and the professoriate.
The organization includes a network of preeminent scholars who exemplify academic and personal excellence, foster environments of support, and serve as examples of scholarship, leadership, character, service, and advocacy for students who have been traditionally underrepresented in the academy.
As an inductee, she will also attend the annual Yale Conference on Diversity in Education. Yale, the first institution in the country to award graduate degrees, is Bouchet's alma mater.
Posted: February 15, 2022
Category: College News, Student News
Tagged as: UF Graduate School Edward Alexander Bouchet Graduate Honor Society, Yewande O. Addie