UF Expands Footprint to New York with New CJCxNYC Immersion Program
The University of Florida College of Journalism and Communications (UFCJC) today announced the expansion of its footprint to New York City with the launch of CJCxNYC, an immersion program for students that blends professional experiences with the city's culture and energy. The program will give students the opportunity to learn, work and live in one of the most important media and communication hubs in the world.
UFCJC is recognized as one of the premier communication programs in the nation, providing students with extensive research-based curricula and unparalleled experience in real-world venues. CJCxNYC extends that experience to New York with in-residence Public Relations Department faculty member Natalie Asorey.
UFCJC created the program to establish a stronger New York City connection and provide students with professional and cultural immersion experiences that prepare them to be leaders in a rapidly changing media environment. The program will also build sustainable recruitment pipelines that position the College as a top place for New York-based employers to attract, recruit and hire student talent for internships and jobs.
The program launches with an initial focus on creating opportunities in public relations and advertising. In the future, the College plans to expand the New York City program to its journalism and media production and management disciplines.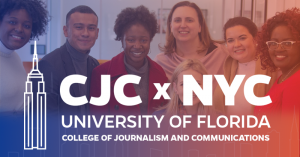 In addition to new opportunities for students, the program provides communication agencies and organizations with a gateway to the next generation of talent. CJCxNYC will include a variety of immersive learning collaborations – including a summer internship program, student competitions, and work with The Agency, the College's on-campus strategic communications agency – that will give employers the opportunity to experience first-hand the vibrancy of students' work, skills and potential.
These collaborations can help employers diversify their hiring pool, better assess candidates, provide before-the-job training, and gain fresh perspectives from the coveted Gen Z generation.
"We are very excited about providing our students with a unique, real-world experience in the most important media and communication city in the country and perhaps the world," said Hub Brown, UFCJC dean. "Our students are already considered some of the best talent across all of our disciplines, and this new program will further increase their career readiness when they enter the workforce."
"The student talent at the University of Florida College of Journalism and Communications is undeniable, and CJCxNYC brings that talent from Gainesville to agencies and organizations in the industry's largest hiring market," said Greg Mondshein, co-founder and managing partner of SourceCode Communications and UFCJC Public Relations Advisory Council member. "SourceCode is proud to be an early supporter of the program and to extend new opportunities to its students."
Posted: January 25, 2022
Category: College News, Student News
Tagged as: CJCxNYC, Natalie Asorey