Five Questions With…Katherine England
"Five Questions With…" is a series of profiles of CJC graduates and the career paths they chose.
Katherine England, B.S. Advertising 2014, M.A.M.C. (Global Strategic Communication) 2019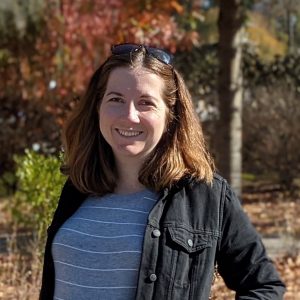 1. Tell us about your current job.
I'm an Associate Director of Affiliate Marketing at Reprise, part of IPG Mediabrands. In this role, I support my clients' strategic brand objectives by providing strategies and planning for their affiliate and influencer marketing efforts. I spend a lot of time digging into reporting, exploring opportunities to drive more revenue by either optimizing their current partners or recruiting new ones into the programs, and then communicating directly with those partners to get them excited about my clients. I also closely monitor the competitive landscape, making sure our offerings – promotions, commission, etc. – are compelling for both our partners and our consumers.
2. Why did you choose to come to the UF College of Journalism and Communications?
In undergrad, I had originally planned on studying journalism, and CJC had one of the best journalism programs available – the best available when I accounted for in-state tuition! However, after writing a few freelance assignments, I learned I didn't want to interview people for my career, and I needed to pivot. After looking into majors where I could still write and be creative, advertising was the obvious choice. Plus, it kept me within CJC, which I'd already toured and felt was a great fit.
| I actually found my first post-college job because of the CJC jobs page! |
For my Masters, I didn't feel an MBA was exactly what I was looking for, but I knew I wanted to grow my strategic talents (and make the most of my tuition reimbursement). The M.A.M.C. specialization in Global Strategic Communication was perfectly aligned with the areas I wanted to further develop, as I continued to grow with a global company and outside of a strictly tactical role. I loved being a part of CJC online because I got to learn a lot from great professors, like Lisa Hope and Jennifer Braddock, while still working and living in Tampa.

3. How did your time at CJC help prepare you for this current position?
I took Advertising Campaigns with [Advertising Professor] Debbie Treise, as part of CJC's Study Abroad program. I can clearly remember going through a practice presentation with her; as I stood at the front of the room, I locked my knees, got choked up, and my teammates thought I was going to pass out (fortunately, our graded presentation went better). I present to clients on an almost daily basis now, and I frequently think back to that presentation as a reminder to keep calm, take deep breaths, and stay loose. I also give my presentations while sitting down, whenever possible!
4. Was there a defining moment, personally or professionally, at CJC that set you on your current path?
I actually found my first post-college job because of the CJC jobs page! My first boss, Ivan Pena, was a CJC grad as well, and he had posted that Rakuten Advertising was looking for an entry-level search marketer. I chatted with him and went through a couple rounds of interviews for the role. The recruiter then followed up with me to share that they'd filled the position, but asked if I was interested in an affiliate marketing position. I had never heard of affiliate marketing before, but since I was in my last semester and eager to line up a job, I told her, "Definitely." A few more interviews later, and I had a job offer to start as a Marketing Coordinator, supporting affiliate accounts. I've now been working in affiliate marketing to some degree for the last seven years!
5. What advice do you have for students interested in pursuing a career similar to yours?
Never say "never." In undergrad, I would have told you I'd never work as an account manager – I was going to be a copywriter. I also would have told you that I was never going back to school. In fact, I've done both of those things. Over the years, I have learned a lot of things I don't want to do again, but it was only by doing them that I learned that. I highly recommend staying open to any new opportunities that might present themselves.
Posted: December 24, 2021
Category: Alumni Profiles, Careers, Digest Only, Five Questions With...
Tagged as: Katherine England