Five Questions With…Jenny Weigle
"Five Questions With…" is a series of profiles of recent CJC graduates and the career paths they chose.
Jenny Weigle, B.S. Public Relations 2003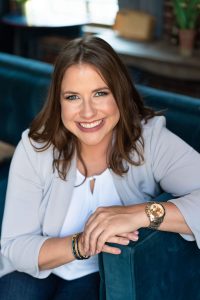 1. Tell us about your current job.
I started my own consulting practice (Jenny.Community, LLC) which helps businesses create digital communities for their customers. You heard that correctly…there IS a field of work where you can build and manage online communities, and I'm proud to be in it. On a daily basis, I'm talking with my clients about topics such as moderation, engagement, measurement, gamification, onboarding, programming, event-planning, and so much more.
2. How did your time at CJC help prepare you for this current position?
One might not guess it at first, but there's a lot of writing associated with a job as a community professional. That's why I'm grateful that I got a solid educational background in writing at CJC. I specifically remember the Reporting class with Mike Foley. It was incredibly challenging, but today I see how rewarding it truly was. I have the skill set to write for marketing and business purposes thanks to the foundation set at CJC.
3. If you had to do your academic experience or career over again, what, if anything, would you do differently?
I probably would have dual-majored with Business, only because there are so many facets to business administration that I've had to learn to compliment the many skills I learned from my days at Weimer Hall.
4. What advice do you have for students interested in pursuing a career similar to yours?
First off, you're so lucky that this career path is now established (as it wasn't when I was a student). As someone who is a natural community builder and social gatherer, this field is a dream come true. If you want to pursue work in community management or strategy, start by listening to podcasts on those topics and reading books on them as well. You're also welcome to reach out to me, and I'd be happy to point you in the right direction.
5. Where do you hope to be in your career in five years?
I hope to continue to have a thriving community strategy consulting practice that has helped numerous enterprise brands create their very first digital community for their customers!
Posted: December 21, 2021
Category: Alumni Profiles, Careers, Digest Only, Five Questions With...
Tagged as: Jenny Weigle