CJC PR Student Thrives By Getting Involved
By Nora O'Neill, B.S. Journalism 2023
Nicholas Suriel never planned on attending the University of Florida, and he never planned on studying public relations. But he has fully embraced his academic career with a long list of in-class and extracurricular activities, with the ultimate goal of making a difference in people's lives.
Growing up in Wesley Chapel, Florida, Suriel said he dreamt of going to an out-of-state school for college. He applied to UF on a whim, as his brother is an alumni, and once he got in, he decided it would be a good place for him.
"I think that with everything, including the pandemic and my involvement at UF and the professional opportunities this universe has given me, that it truly was the place that I was supposed to be," he said.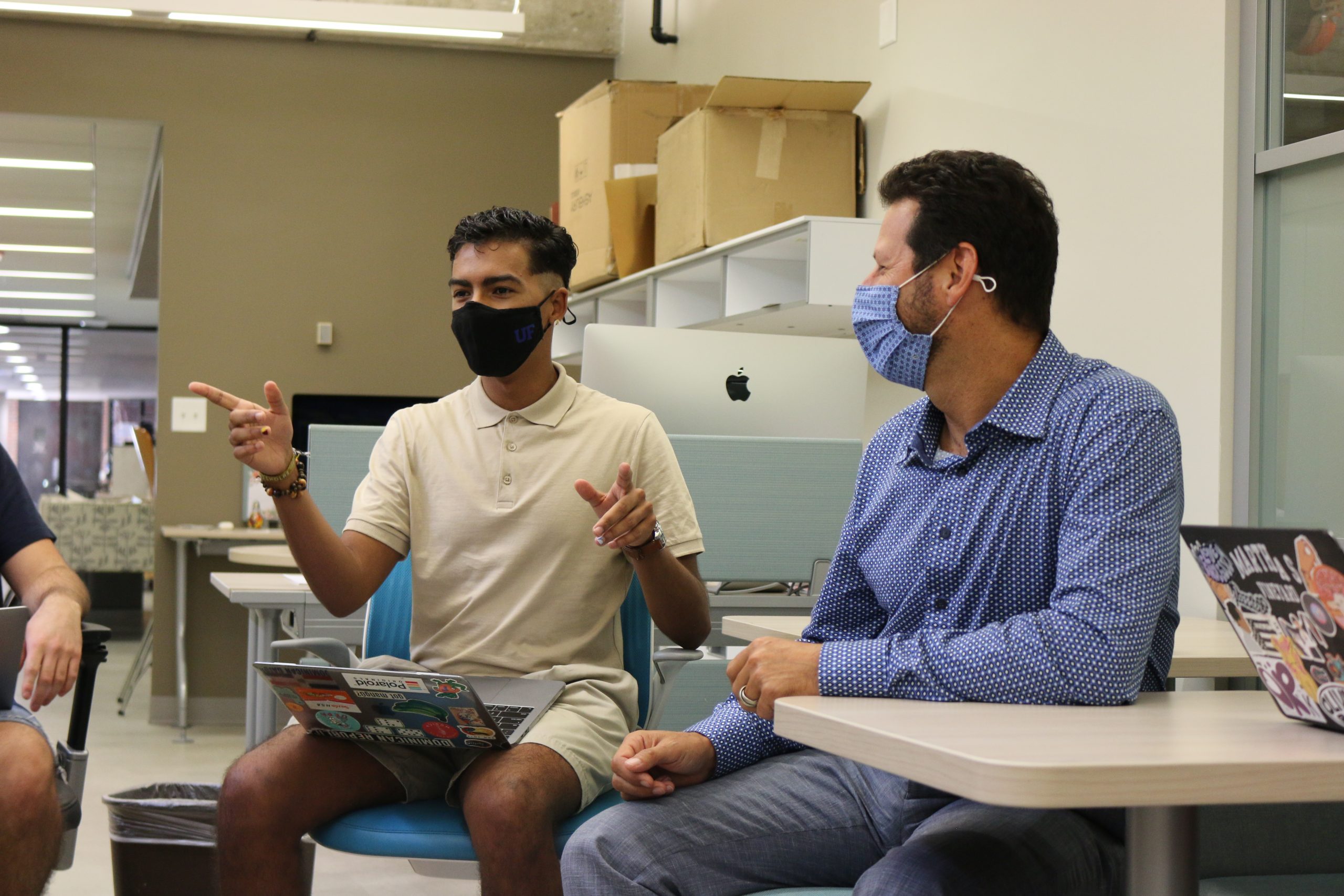 Suriel initially set his sights on a degree in political science. He said he is passionate about helping others, and believed that would be the best way to do so. "My end goal with it, which kind of connects to how I got to PR, was always to help people," he said.
While at Preview, UF's freshman orientation, Suriel looked over his course catalog and felt disappointed with the classes he would be taking. Lucky for him, public relations was listed right next to political science and immediately caught his eye.
"I believe that everything has a purpose," he said. "Me coming to UF and me even finding public relations as a degree to study was another just kind of happened-to-happen thing, but wasn't necessarily anything that I was looking for, which is really cool."
Suriel is a junior in the University of Florida College of Journalism and Communications public relations program and has plans to graduate in the spring of 2022 — and he has no regrets about choosing his major.
"Once I got to college, I tried to jump straight into taking classes for my degree," he said, "and I just completely loved the classes."
In fact, Suriel has relentlessly pursued his dreams through various extracurriculars and internships. He is a data analyst for The Agency, a student assistant with the Knight Division for Scholarships and Student Inclusion, vice president of communications for the UF Hispanic Student Association, and more. Outside of the College, he has been a marketing intern for The Selling Factory.

With all the commitments he has, Suriel said it can feel overwhelming. But he has found a good balance by taking it one step at a time and not taking on more than he can handle.
"I finally feel like I'm finding a really good rhythm with it," he said. "It really just comes down to drawing those boundaries with all those involvements."
One of the many things he loves about the College is the sense of community. There are so many students at the school and so many organizations to participate in, but Suriel said he feels that once you find your niche and a good support system, it will feel like a small campus.
"There are a lot of people, but it just means that there's even more people that are possibly your forever friends," he said.
One big supporter for Suriel has been Angela Bradbery, the Frank Karel Endowed Chair in Public Interest Communications. He took her public interest communications class the spring 2021 semester, which changed everything for him. Prior to the class, he said he had a vague idea of what he wanted to do professionally. Now, he knows he will be able to use his degree to find work that is fulfilling to him.
"Whether you work for a nonprofit or a government agency, or even a corporation with social responsibility efforts, you can actually use those platforms to drive meaningful change for a subject that you're really passionate about."
He said he knows that whatever he ends up doing for his career, he wants his work to prioritize helping other people.
"The reason that I wake up in the morning and keep on trying to work as hard as I can, is because I feel that there are still people in this world that don't have access to the same opportunities," Suriel said. "And with all the things that I've been given, I will be able to give back to my community."
Posted: December 21, 2021
Category: Digest Only, Diversity News, Profiles, Student News
Tagged as: Hispanic Student Association, Nicholas Suriel