Two CJC Students Chosen for Edward Aschoff Memorial Fund Scholarships
The University of Florida College of Journalism and Communications (UFCJC) has named the inaugural recipients of the  Edward Aschoff Memorial Fund Scholarship, named in honor of Edward Aschoff, B.S. Journalism 2008, an ESPN college football reporter who passed away December 24, 2019, his 34th birthday, after a brief illness.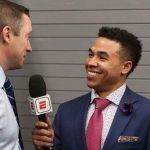 The recipients selected for scholarships are Journalism juniors Curtis Michaud and Eddie Johnson. Michaud currently works as a student sports reporter for WRUF-AM 850/ESPN. Johnson has worked in radio, television and digital sports reporting roles for the UFCJC media properties. Both are planning to pursue sports journalism careers.
According to Michaud, "With the assistance from this scholarship, I am thrilled for the opportunity that my writing and storytelling techniques will continue to be critiqued by the professors and staff members at this distinguished institution." (For a profile of Michaud, click here.)
"My goals and dreams are big," said Johnson. "Big as in one day I'd like to become a sports reporter and run my own sports media company. I know achieving these goals will not be an easy task and that I may have a long road ahead of me.  But my journey to a long and successful career has already begun with my acceptance into UFCJC and being selected to receive the Edward Aschoff Memorial Scholarship."
The scholarship fund provides support to CJC students involved in sports journalism with a demonstrated background of commitment to advancing diversity, equity, and inclusion through activities with established organizations, volunteer work and academic pursuits.
Posted: December 14, 2021
Category: College News, Student News
Tagged as: Curtis Michaud, Eddie Johnson, Edward Aschoff Memorial Fund